Common Read
Reading Together, Building Connections, Strengthening Our College Community
When you read books, they bring you to different places, they change you, by opening up different experiences and thoughts. That's what educates you." – Cathy Germano, Director of Learning Services
Excelsior College's Common Read program invites students, alumni, faculty, and staff to participate in a shared reading experience designed to stimulate discussion, encourage different perspectives, and build community.
For the Common Read book of summer 2020, Excelsior has chosen "Educated" by Tara Westover.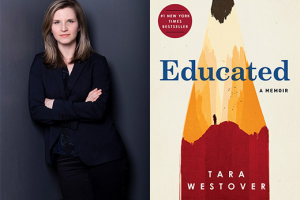 "Born to survivalists in the mountains of Idaho, Tara Westover was seventeen the first time she set foot in a classroom. Her family was so isolated from mainstream society that there was no one to ensure the children received an education, and no one to intervene when one of Tara's older brothers became violent. When another brother got himself into college, Tara decided to try a new kind of life. Her quest for knowledge transformed her, taking her over oceans and across continents, to Harvard and to Cambridge University. Only then would she wonder if she'd traveled too far, if there was still a way home." – https://www.penguinrandomhouse.com/books/550168/educated-by-tara-westover/
You can purchase "Educated" at Excelsior's online bookstore.
Join Our Virtual Discussion
Thursday, August 20 at 7 p.m.
Saturday, August 22 at 10 a.m.
Tuesday, August 25 at Noon
Wednesday August 26 at 3 p.m.
Contact Cathy Germano at CGermano@excelsior.edu for registration information.