Board of Trustees
David W. Oliker
Title:
President & CEO, MVP Health Care (ret.)
Education:
Bachelor's, East Carolina University
Master's, American University
Post-master's graduate certificate in health care administration, George Washington University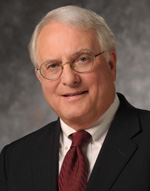 Former president and CEO of MVP Health Care, an employer health benefits company headquartered in Schenectady, New York, David Oliker led MVP since its inception in 1982 until his retirement in 2013. MVP is rapidly emerging as one of the strongest regional health insurers in the Northeast. MVP's exceptional growth stemmed from Oliker's philosophy that high-quality, affordable health care results from innovation and unswerving commitment to customer service.
The MVP HMO has earned "excellent" accreditation—the highest level—from the National Committee for Quality Assurance (NCQA), a not-for-profit organization that evaluates managed care organizations throughout the U.S. It has also been rated among America's Best Health Plans by U.S. News & World Report and the NCQA. Oliker is a nationally recognized leader in managed care, serving on the board of directors of the America's Health Insurance Plans (AHIP) and as a member of AHIP Policy Advisory Council. In addition, he has served as chairman of the New York State Health Plan Association and is currently a member of its executive committee.
A strong community leader, Oliker serves on the Albany College of Pharmacy Advisory Board and the Advisory Council of Union Graduate College. He holds a bachelor's degree from East Carolina University, a master's degree from American University, Washington, DC, and a post-master's graduate certificate in health care administration from The George Washington University.