Board of Trustees
Garry W. Jaunal
Title:
Partner, Baker & McKenzie
Education:
Juris Doctor, Northwestern University School of Law
MS in Management, Purdue University
BS in Liberal Studies, Excelsior University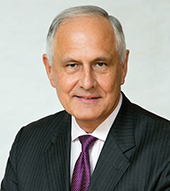 Garry W. Jaunal is a partner at Baker & McKenzie, where he is a member of the global private equity practice and the banking and finance practice. Prior to joining Baker & McKenzie, he practiced corporate transactional law for nearly 13 years at the law firm of Kirkland & Ellis LLP, representing clients in domestic and global transactions and advising boards of directors and private equity clients. Admitted to practice law as an Attorney and Counselor at Law in the State of Illinois and as a Solicitor in England and Wales, he has also been admitted to practice before the Supreme Court of the United States and the United States District Court for the Northern District of Illinois.
Among his many pro bono activities are representing the indigenous people of Nepal in a complaint before the United Nations Human Rights Commission, representing the Chicago Community Loan Fund as a lender in a community development mortgage loan, representing a student and parents in an Individualized Education Plan conference, and representing a charter school in financing a transaction. Jaunal is currently working as part of an initiative to resolve legal issues concerning the prosecution of piracy on the high seas.
Prior to entering the law, Jaunal had 25 years of experience in positions of progressive responsibility in the design, construction, and start-up testing of commercial nuclear and fossil-fueled power plants, providing management and technical consulting services in the energy, telecommunications, air, and marine port industries. He has been a successful entrepreneur, worked as a patrolman and detective with Delaware's New Castle County Police Department, and served on active duty with the United States Marine Corps.
Jaunal is a frequent speaker on the topics of legal structuring and financial restructuring of businesses. Named an Illinois Rising Star by Super Lawyer magazine in both 2008 and 2009, he is a life member of the American Nuclear Society, a member of the American Bar Association, a member of the Law Society of England and Wales, and a sustaining member of the Marine Corps Heritage Foundation.
After earning a Bachelor of Science in Liberal Studies in 1992 from Excelsior University, Jaunal immediately enrolled in a graduate program at Purdue University, where he completed a Master of Science in Management in 1994. In pursuit of fulfilling his ultimate goal of earning a law degree, he went on to complete a Juris Doctor cum laude from the Northwestern University School of Law in 1999.