Changing Perspectives on Higher Education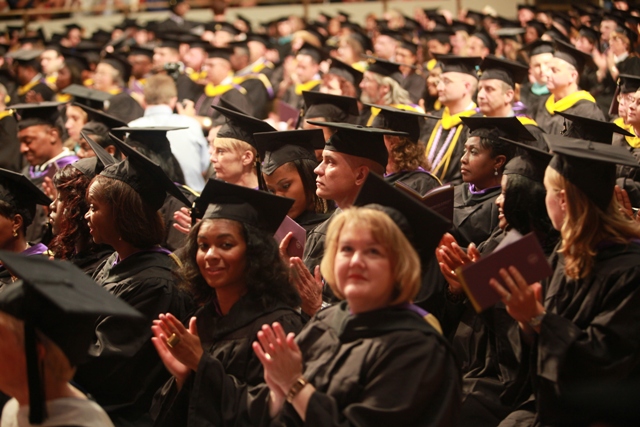 The way Chris Montagnino views things, Excelsior is well-positioned to help lead the current wave of innovation in higher education that is intended to benefit students and employers alike. She ought to know. She has had considerable experience in adult higher education, having served in various positions including a campus president, regional vice president of operations, and director of enrollment. And, now, she's part of the Excelsior team to help put this leadership into action.
More and more jobs today — and those to emerge over the next decade – require candidates to have postsecondary educational credentials. These may be degrees, evidence of advanced skills, or professional certification and/or licensing. According to a 2013 Lumina Foundation survey among business leaders nationwide, on their perceptions of the quality and effectiveness of American higher education institutions in preparing graduates for the workforce, nearly nine in 10 (88%) favor an increased collaboration between businesses and higher education institutions.
About 85 percent of today's college students are working adults over the age of 25 and, for Montagnino, Excelsior offers a creative, collaborative solution to educating the workforce. After all, the College has been meeting the needs of working adult learners for more than four decades. In part, this is what brought her to Excelsior College.
"After completing my first master's degree, I accepted a job as an enrollment counselor and I really enjoyed helping adults navigate the various pathways in higher education," Montagnino notes. After finishing her second master's, she started teaching online, and was promoted a few times to eventually run three college campuses. Fifteen years later, she was offered an opportunity at a smaller, family-owned institution that was experiencing growth in online education, Herzing University. There she became a campus president for its flag-ship operation and served as regional vice president of operations.
Through her work elsewhere Montagnino had learned about Excelsior College and had high esteem for its mission which is similar to her own beliefs. In 2014, she took advantage of an opportunity to come work at Excelsior in its Extended Education division.
"Excelsior has three core strengths: competency based education, evolving products, and evaluating prior learning experience," says Montagnino. "We can use this experience and our innovative spirit to further partner with businesses on educating the adult learner and we can help guide other colleges in doing the same thing. With about 36 million Americans that have some college but no degree, the pool is big enough for all of us to get involved," she adds.
Finding different ways to use our expertise, and to learn new things ourselves, Excelsior is uniquely positioned to assist business leaders identify their own needs and help students earn the credentials necessary to get ahead in the workplace. It's this changing perspective on the role of higher education that energizes Montagnino.
"I have learned quickly that Excelsior College is bold and dynamic," she says. "There will be more innovation to come at our college and I am glad it will be centered on making decisions that are in the best interest of our students."