College Supports Fleet Reserve Association National Convention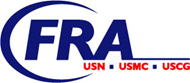 The Fleet Reserve Association held their 88th National Convention in Spokane, Washington during the week of October 13.  Buddy Ray, Excelsior College military admissions counselor in Washington state area, supported the event and was able to address the membership about the education partnership and announce the first FRA Excelsior graduate, Michael Scott Gritton having achieved his associate in applied science degree in technical studies through the partnership program.
The FRA's twelfth and current national director is an Excelsior College alumni, Thomas Snee, a 1998 bachelor of science in liberal arts graduate and is noted for being a leader in several areas of public and parochial education in Virginia as well as retiring from the U.S Navy and having a distinguished naval career.
FRA is a congressionally charter, non-profit organization serving the interests of the Sea Service community for the U.S. Congress.  The FRA is comprised of 65,000 current and former enlisted members of the U.S. Navy, Marine Corps, and Coast Guard after serving 20 or more years of active duty, but, less than 30 years for retirement purposes.  FRA serves as a member of various key government committees who represents five and one half million uniformed services active