Commencement Stories: Nursing Graduate Maria Malone Wanted More Out of Life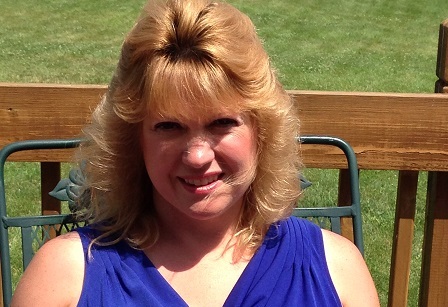 On July 11, Excelsior College will host its annual Commencement ceremony at the Empire State Plaza in downtown Albany, New York. With 'Commencement Stories', Excelsior Life explores the personal and educational journeys of a few of this year's outstanding graduates. Follow #ExcelsiorGrad2014 for all Commencement-related updates and activities.
Listen to full interview with Maria Malone (4:21 – 11:40)
Maria Malone grew up in Rotterdam, a suburb just outside of Schenectady, New York. Her life followed a traditional path – she married, had two children, adopted a "tenacious" white terrier, and secured a job as an administrative assistant.
Maria bounced around employers for a dozen or so years, including stops at a hospital, insurance company and physician group, until one day she had an epiphany: she wanted more out of life.
"It dawned on me I could be doing so much more, I knew there was more for me and my future," says Maria, reflecting back. "I wanted to give nursing a try."
She enrolled at Maria College before transferring to Ellis School of Nursing, where she earned an associate degree. She landed a job as a nurse at Ellis Hospital, eventually advancing from the neurology unit to intensive care.
On the advice of her professors, she spent four or five years gaining as much experience as a nurse that she could before heading back to school for her bachelor's degree.
"As you go on for your bachelor's, you can apply all of your knowledge of clinical and all of your knowledge of being a nurse into the program."
She chose to pursue her Bachelor of Science in nursing degree at Excelsior College.
"I decided to go through Excelsior. I was really happy with the flexibility. You could be a mom, you could be a wife, you could be a nurse…you want to go online at 2 am…you don't have to worry about finding a sitter for the kids, driving through traffic, finding a place to park, driving through winter conditions."
Her biggest challenge was prioritizing, finding a way to allocate enough time to being a mom, a wife, a student and having a career. But she was motivated to become a better-rounded practitioner.
Maria went on to become an be an associate nurse manager in intensive care and was recently promoted to nursing clinical supervisor Her degree has shown her how to interact with nurses and patients on a more global aspect, allowing her to provide better care to patients, improve her teaching, and give back to the community.
Maria already has her sights on the future. She's already enrolled in Excelsior's Master of Science in nursing program, concentrating on informatics. She also looks forward to Commencement on July 1 where she'll be joined by her husband, children and mother.
"It's so important for my children to see (me) walk across stage…see how hard I've worked and how important an education is."