CPNE & ME: Lynda Yazhari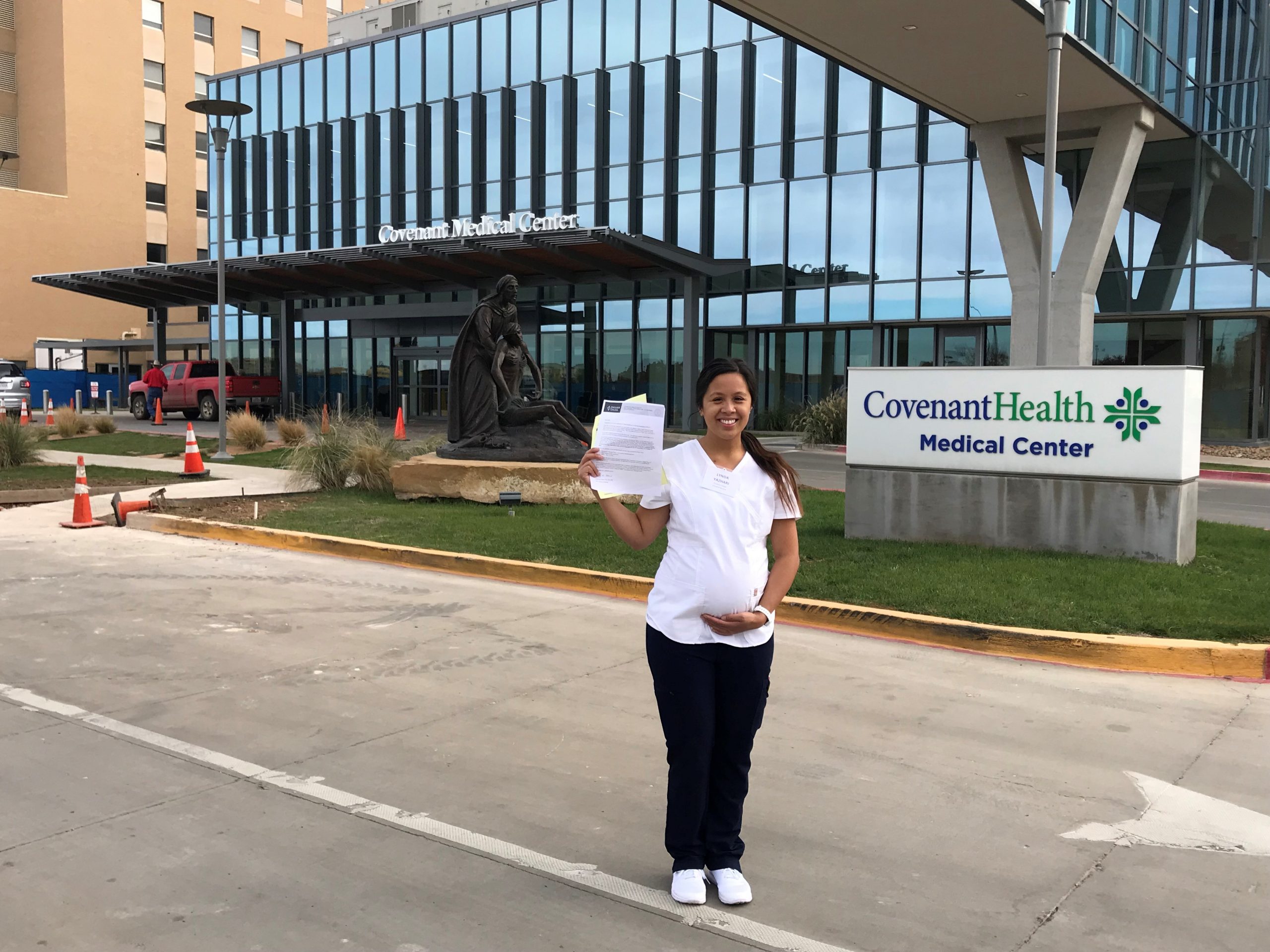 Lynda Yazhari passed the Clinical Performance in Nursing Examination in November 2018 at Covenant Health Systems in Lubbock, Texas, on her first attempt and at 25 weeks pregnant. With the accomplishment under her belt, Yazhari plans to move ahead in her career and fulfill her dream of becoming a neonatal intensive care unit nurse.
Yazhari has always wanted to be a nurse. Her mother has been a nurse for the past 20 years and has been the biggest influence on Yazhari. Yazhari recalls going with her mother on "bring your child to work days" to rehabilitation centers for the elderly, and remembers thinking that she wanted to be a nurse like her mother. Following high school, she wanted to enter a BS in Nursing program, but the waiting lists were long. Instead, she became an LPN in 2011 with the goal of later returning to school to become a registered nurse. "I decided to go back to school after a couple of years in the field working in primary care for the Department of Veteran Affairs," she says.
That's when she decided to enroll at Excelsior, where her mother, Stella Flock, earned both an AS and BS in nursing degree. Yazhari decided the College was right for her for two main reasons: one, Excelsior gave her the ability to complete the nursing program at her own pace, and two, she had the option to test out of courses. She recalls this flexibility was meaningful to her as a full-time nurse and mother of a 2-year-old. She says, "This was very important for me because as a mom, I had to manage my schedule and find time to study…"
Yazhari didn't study with fellow students in preparation for the CPNE, but a coworker who passed in August did give her some successful tips and advice to remember when taking the exam. Her friend was not successful in passing the CPNE during her first attempt, and so shared her mistakes with Yazhari so that she might learn from them. She also told Yazhari not to "overthink it," and described how the experience would go so Yazhari knew what to expect.
Yazhari also borrowed her friend's lucky highlighter and blue and black pens. "She said write your first draft or your mnemonics…in black, and then when [you] go into the room and are with the patient, and anything [you're] jotting down in the room like what the patient says, the patient's vital signs—write that in blue so that you're able to differentiate it from the black," explains Yazhari.
The lucky pens helped as moral support, but Yazhari's success came from her good organization and study habits. "I broke down the Excelsior study guide and organized my calendar to study a portion of the study guide every day for one month," she says of her routine. She studied 1–2 hours per day, an amount she says was adequate to retain the information. She would study until she could explain the process to her husband or mother and then move on to the next topic. Throughout the journey, Yazhari says, her biggest help and support were her husband, their son, and her mother.
Yazhari is currently enjoying maternity leave with her new son but intends to get right back into studying. Next up for her is to take the National Council Licensure Examination (NCLEX). "I have one class in general education to complete before I can study with [Assessment Technology Institute] for NCLEX," she says. She plans to stay with the Department of Veteran Affairs, working on a medical surgical floor to gain more experience, while keeping her dream position in sight.
More CPNE Tips from Lynda Yazhari
"Everything you need to know is in the Excelsior [CPNE] study guide. Just know it head to toe."
"The videos, PowerPoint [presentations], and webinars are extremely helpful and allow you to visualize what is required of you. Watch the videos following along with the study guide. When practicing areas of care, remember to practice your documentation."
"My biggest advice is to don't overwhelm yourself. Break the study guide down to studying just a small portion of it every day."
"I also purchased a doodle board so that I could write out my mnemonics, and practice my documentation with each area of care I was studying."