Credit By Exam: Study Smarter, Not Harder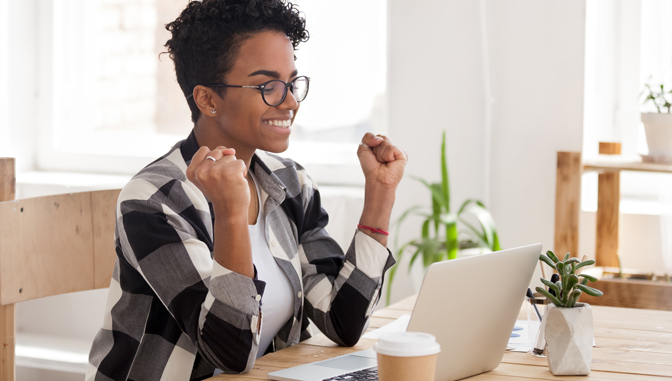 Earning college credit can be daunting, time-consuming, and expensive. Academic excellence, however, does not have to be earned in the classroom. Proficiency exams are developed in concert with related courses and are essential to student success at Excelsior College because of the flexibility—in time and in cost—they provide many benefits for student success, including a higher GPA and quicker degree completion.
Walter (Wayne) Malone, a 2018 graduate of Excelsior College, completed 82 percent of his Bachelor of Science in Liberal Arts program by taking exams. Achieving a nearly perfect GPA, Malone's road to success was mapped out by his academic advisor. "Exams were the vehicle, but I was the driver," he says.
Full-time students who take online courses only can earn anywhere from 24–45 credits over the course of an academic year. . Malone believes that he would still be working toward his bachelor's degree if it weren't for UExcel Exams.
For Malone, it came down to a simple reality: "These exams are equivalent to courses Excelsior offers, so why spend two months working on 3 credits when you can earn 3 credits in two weeks by self-studying for exams?"
According to the American Council on Education, students face increasing challenges in their ability to finance and complete their degrees. Exams are a proven tool in college completion,  as cited in College Board, and a flexible option for Excelsior students.
"There were no deadlines besides the ones I had set for myself, which made my degree truly in my control." Malone managed to prioritize at least 18 hours a week to study for exams, though not every exam needed that much time. "There were subjects I knew well; subjects that came easier than others, so sometimes, I was able to spend more time with my family during those study sessions for that particular exam."
 The exam creation process is led by subject matter experts who develop and ensure the exam meets the same concept comprehension as its 3-credit course equivalent. The rigor of each exam meets the American Council on Education standard, as well.
As with any subject, however, some come easier than others. Proficiency exams are no different; they require time, patience, and practice. Malone created his own routine for acing subjects by studying all of the materials provided to him, including practice exams and textbooks. "The practice exams were extremely helpful and, best of all, low cost." Practice exams are structured to replicate the actual exam come test day and are available for each UExcel Exam. "I took those practice exams, got used to the way questions were phrased for a particular topic, studied harder on the questions I didn't answer correctly, and it allowed me to focus on my weaknesses."
Malone admits his most challenging exams were the most rewarding to pass. "I worked hard, took my time studying, too. Sometimes, though, I wanted to give up." He found that when he worked harder on subjects he wasn't comfortable with, he felt more accomplished and motivated to tackle more in the face of adversity. His dedication was recognized with the Ewald B. Nyquist Award, an award presented at Commencement to an Excelsior student who exhibits outstanding achievement in earning their degree through independent study.
Life happens and it certainly happened to Malone. "When my house flooded," he shared, "I made it a personal effort to get somewhere with internet and continue to work through everything. I wasn't giving up. My family wouldn't let me, either." Exams allow for the momentum of academic progress to continue, even when the unexpected occurs.
Malone's advice to those who are interested in taking exams to fulfill degree requirements: Talk to an academic advisor. Malone attests his advisor was his champion and guide. "She showed me how easy it was to complete the degree in sequence using exams as often as I could." Facing his share of obstacles; raising four children, working full-time, natural disasters to personal illnesses, his determination to succeed was based on the flexibility of taking exams on required subjects at his convenience.
"Taking exams taught me to study smarter, not harder," says Malone. "