Determined to Succeed: Mark Wahl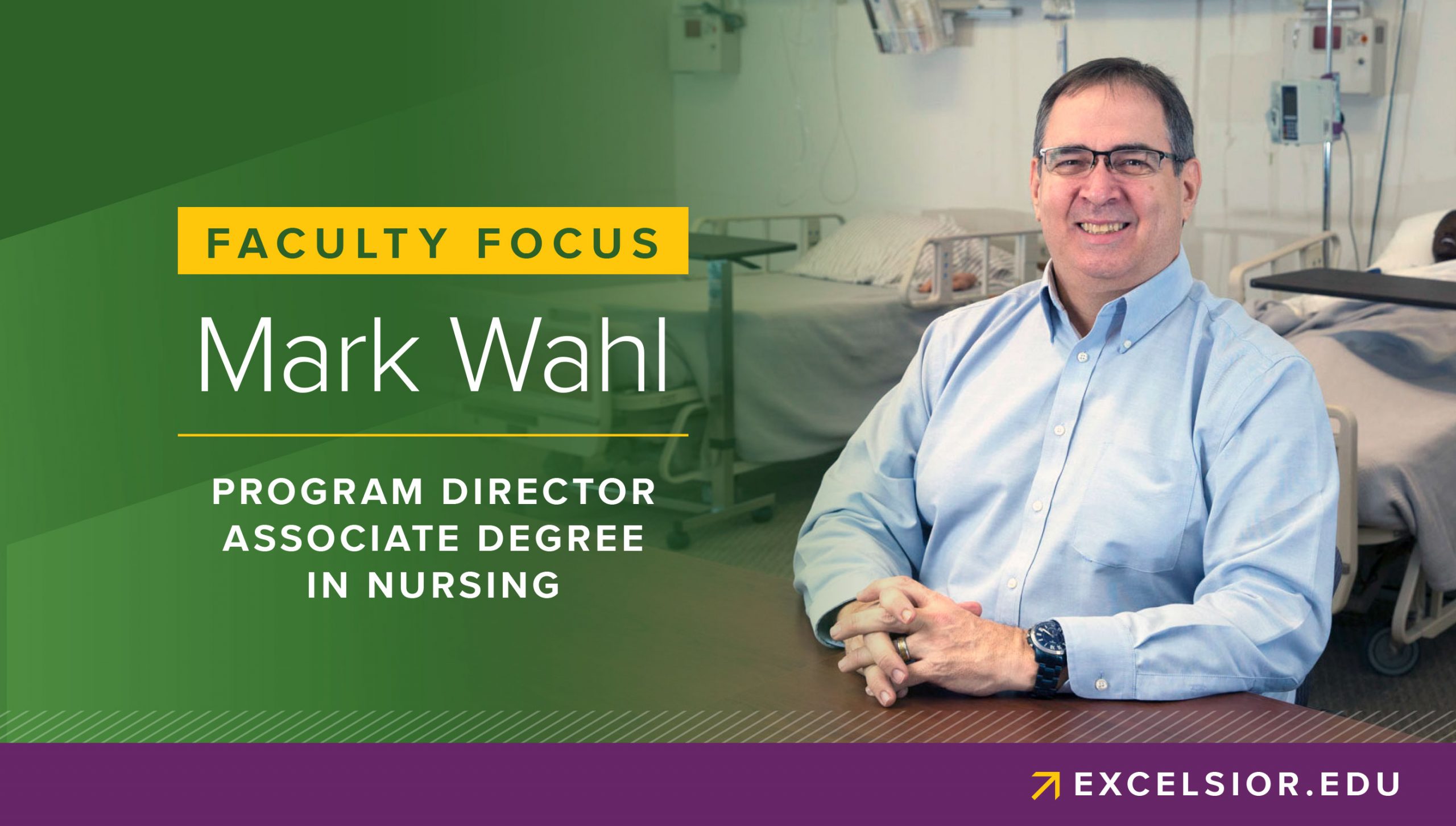 After spending 20 years in the Navy and retiring as a senior chief personnelman, Mark Wahl decided it was time for a change. After reading "What Color Is Your Parachute?" by Richard N. Bolles, he decided he wanted to be a registered nurse.
Wahl is a faculty program director in the associate degree nursing program at Excelsior. He went to school at Maria College after retiring from the Navy and began working as a Registered Nurse (RN) in the ICU at St. Peter's Hospital in Albany, New York. Wahl is a two-time graduate of Excelsior College; he received an associate degree in liberal arts from Regents College in 1984 and a master's in nursing with a concentration in nursing education in 2011. He started working for the College in October 2011.
Transitioning from Navy life to civilian life was hard, says Wahl, especially losing the sense of community that came with being with his fellow servicemembers. It was also hard to "start from scratch," so to speak. He explains, "I also must say that transitioning to a staff RN from a very senior leadership position was a bit difficult, too…I was the expert in my field… [then I was a] novice nurse with the basic knowledge that all new graduates have. Having to work from the position of not "knowing everything" took some getting used to."
Though there were some struggles, there have been some overlaps between the two worlds. "Leadership, strong work-ethic, and working within a team for a common goal" are the things Wahl has seen as the commonalities between his life in the Navy and as a nurse.
In the courses he teaches for the associate degree in nursing program, Wahl encourages his students to succeed, emphasizing self-motivation, dedication, and being able to organize time well. He is constantly impressed by his students, saying, "I will say that I have come across several of these success stories from my former students. There is even one [Kenneth Kent] that went on to obtain his master's degree in nursing and is now an adjunct faculty with Excelsior College."
Wahl continuously encourages young veterans to understand where they stand. "Understand how the skills you learned and mastered in the service can translate to the civilian world…Also, do not be afraid to take risks and learn a new trade or profession," he explains. He also adds that one of the things he wishes he knew when he was younger was "how to have been more focused on the bigger picture and not let some of the little things get in the way. I will say that working through some of those issues has made me a better human being today. I truly feel that we learn so much from our mistakes, which makes us stronger and better."
When he's not teaching, Wahl can be found volunteering on the American Diabetes Association planning board for the Tour de Cure: Capital Region. He happens to be a member of the Excelsior College staff cycling group, and has organized its participation in the Tour de Cure fundraiser. He also established a Capital Region Chapter of the American Assembly for Men in Nursing, and is a member of local veteran associations, including a local Navy Seabee squadron, American Legion post, VFW post, and Capital Area Chief Petty Officer Association.
But if you ask him, he's perfectly comfortable working around his home, hanging out with his family, and cycling. "I'm a big homebody," he claims.