Eating Healthy on a Budget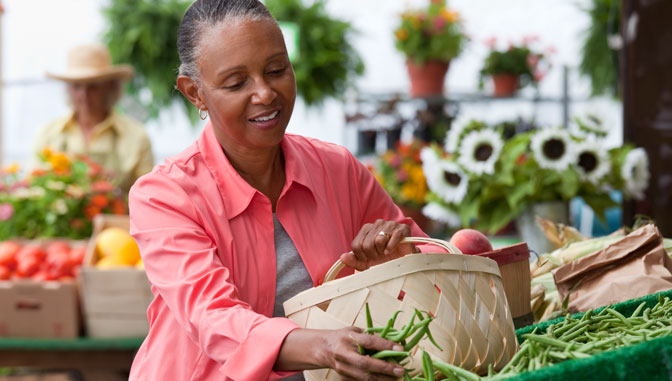 Students juggling school, jobs, and families have limited time and resources to think about healthy eating. But healthy eating doesn't have to be time-consuming or expensive! Here are a few tips that I give to my students on how to eat healthy without breaking the bank:
 Visit a Farmer's Market
Take a weekly trip to a local farmer's market to get great deals on fresh, local (and often organic) produce. Farmers' markets have a wide variety of fresh foods, and buying in bulk will save you money. Consider going to the market with several friends or neighbors so that you can buy in bulk together. Farmers are also able to negotiate prices with you if you buy a larger quantity of food. Thinking about the cold winter months? Many regions have farmer's markets all year long. Canning and freezing fresh fruits and vegetables are a great way to enjoy nutritious foods all winter.
Invest in a Wholesale Club Membership
Buying food in bulk saves money, but if you're purchasing perishable items like produce, you often have to buy more than you need. Try freezing leftover fresh fruit like blueberries and strawberries to make smoothies. Consider splitting the cost of bulk produce with a neighbor so that you both can save money without wasting leftover produce. Check out the frozen aisle for vegetables and fruit; they are often cheaper than fresh produce.
You Don't Have to Stick to a List
We've often been told that we have to stick to our grocery list to save money at the store. However, if you see a great sale on a healthier item (boneless chicken breasts, fresh fish, etc.), be prepared to adjust your weekly menu to allow you to stock up on that item. Make extra portions of a healthy meal and freeze the leftovers. This will decrease waste and limit the desire to grab less healthy fast-food meals when you're short on time.
 Host a Food Swap
Invite a group of six–ten friends to choose their favorite healthy meal to prepare. Pick something that freezes well (flat in a gallon-sized Ziploc or aluminum foil pan). Prep your meal at home for everyone (yes, that's eight chicken dishes if you have eight participants!). Meet at someone's home with your coolers and swap dishes with everyone. You go home with eight healthy meals that you can freeze, with the work of only prepping one large meal. It's also a lot of fun!
Interested in learning more about nutrition and health? Consider enrolling in HSC 403: Nutrition for Wellness.