The Class of 2016: 4,875 graduate from Excelsior College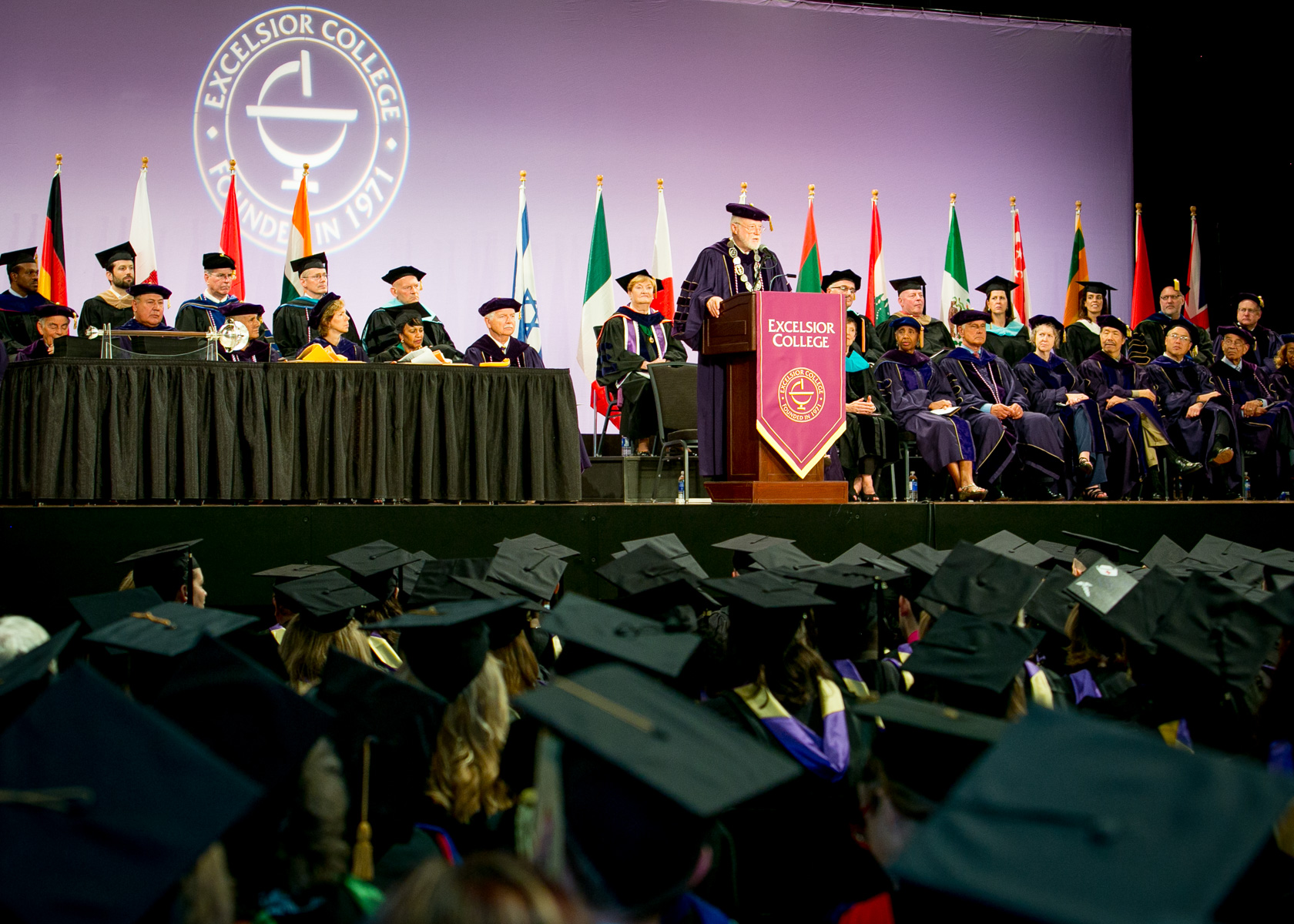 Excelsior College will host its annual Commencement ceremony on July 8 in Albany, New York at the Empire State Plaza. More than 2,400 individuals are expected to attend, including nearly 400 graduates, accompanied by their family and friends. General Peter Pace, USMC (Ret.), 16th chairman of the Joint Chiefs of Staff, will deliver the keynote address.
This year's graduating class comprises 4,875 adult learners, with an average age of 37 years. Thirty five percent self-identify as minority and 35 percent as members of the U.S. military; an additional 14 percent are veterans. Graduates come from all 50 states, the District of Columbia, the U.S. territories, and 21 other nations.
In addition, there are nine graduates from Excelsior's Veterans to Bachelor of Science in nursing (VBSN) program, funded by a three-year, $1 million grant from the Health Resources and Services Administration (HRSA). To date, 57 have graduated since VBSN's inception two years ago.
In total, 1,550 degrees were conferred over the past year at the associate level, 2,792 at the bachelor's level and 584 at the master's level. An additional 69 students earned more than one degree during the past academic year and 18 individuals earned certificates. The oldest graduate is 81 years old.
Founded in 1971, Excelsior College is considered a pioneer in distance education, with more than 40,000 current students and 160,000 graduates worldwide. Many learners come to Excelsior College with prior higher education or military experience and are seeking a flexible means to complete their degree in hopes of creating a better life for themselves and their loved ones. Research indicates those whom achieve a post-secondary credential make more money, have better job prospects, and lead healthier lives.
You can learn more about Excelsior's Class of 2016 on Excelsior Life, the College's newsroom. Profiled graduates include:
Sergeant First Class David Miller, a member of the New York Army National Guard, who chose Excelsior to maximize his previously earned college credit and military training.
Andrew Palm, a three-time graduate of Excelsior, who will use his graduate degree to become a nurse educator.
Keylla Capote, a first generation student and single mother from Venezuela, who pursued her degree to provide a better life for her daughter.
Excelsior will publicly broadcast the Commencement live online to allow graduates and family members unable to attend the event in Albany on July 8 an opportunity to participate. The ceremony starts at 3 pm EST.
Follow #ExcelsiorProud for all Commencement-related updates and activities.
-30-
Excelsior College
Excelsior College is a regionally accredited, nonprofit distance learning institution that focuses on removing obstacles to the educational goals of adult learners. Founded in 1971 and located in Albany, NY, Excelsior is a proven leader in the assessment and validation of student knowledge. It offers more efficient and affordable access to degree completion through multiple avenues: its own online courses and college-level proficiency examinations, and the acceptance in transfer of credit from other colleges and universities as well as recognized corporate and military training programs. Excelsior College is accredited by the Middle States Commission on Higher Education and designated as a Center for Academic Excellence by the National Security Agency and the US Department of Homeland Security.