Excelsior College Nursing Student Implements Nurse Wellness Plan, Incorporating Aspects of Final Course Project, for Benefit of Colleagues in Manhattan
Albany, NY—Excelsior College nursing student Lou Ann Cettina, is working on her bachelor's degree and recently completed a capstone project titled, Self-Compassion Training for Nurses: Using Mindfulness, Emotional Intelligence and Progressive Relaxation to Pause-Focus-Reset. Her course project, all the timelier during the COVID-19 pandemic, became part of the nurse wellness plan at a Manhattan medical college.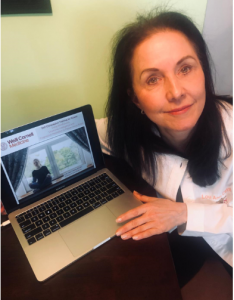 Cettina has been an RN for seven years. Prior to nursing, she was a practice administrator for a mid-size OB-GYN practice in Long Island, New York, where she wore many hats—human resources, finance, IT, patient advocate, and office mom to staff members. While there, she was inspired by the kindness and care the nurses and physicians provided and returned to school to earn a nursing degree.
For the past six plus years, she's worked as a primary care adult medicine triage nurse for Weill Cornell Medicine in Manhattan. During her commute from Queens, she uses the time to meditate and do schoolwork.
Cettina's goal during the course was to develop a program at her facility to educate nurse colleagues on the value and importance of self-compassion and  showing kindness to one's self—by using mindfulness, emotional intelligence, and progressive relaxation.
While taking Excelsior's capstone course, Cettina collaborated with her management team to develop a Nurse Wellness Plan that incorporated this self-compassion initiative. By implementing this program, using Swanson's middle range theory (a cornerstone of healing for nursing education), for the nurse workforce at her organization, she encourages routine self-care and compassion to minimize and eventually avoid burnout.
Dr. Adam R. Stracher, chief medical officer and director of primary care, and associate dean for clinical affairs at Weill Cornell Medicine, stated, "Lou Ann has been a fantastic resource for our patients and staff at Weill Cornell Medicine. She goes the extra mile to demonstrate her compassion and to insure patients and colleagues always feel supported."
Figure 1 Example from training
The nursing management were so impressed that they are now beginning a weekly education series for the nursing staff on self-compassion, starting with Cettina's PowerPoint initiative the week of May 18 through a Zoom meeting platform, then followed by a once weekly hour-long education (again, via Zoom) on clinical meditation and imagery. She already has enough material to present for six weeks. Her presentation will be 50 minutes of training for nurse-attendees with a 10-minute question and answer period to follow, composing the session in such a way that it will provide continuing medical education credit for the 50 to 100 nurse-attendees. Cettina said, "Although presenting to such a large group does make me nervous, I feel very strongly about the value of this initiative and will find the courage to do it."
Cettina serves as an example to her colleagues by modeling self-compassionate behavior as well as providing training to her nurse colleagues, making them aware of their own burnout risks and being available as a nurse team leader to discuss their concerns if they have any further questions or problems.
The American Holistic Nurses Association (AHNA) has been providing a $3,000 practice grant annually to two institutions that "initiate, integrate and encourage holistic self-care activities." Cettina plans to present her self-compassion initiative to the AHNA to help fund the program for her organization and present this initiative to Queensborough College of Nursing so that the educators can engage in their own self-compassion as well as teach the skills to nursing students.
To learn more about Excelsior College School of Nursing, visit excelsior.edu.
#  #  #
 ABOUT EXCELSIOR COLLEGE
Excelsior College (excelsior.edu) is a regionally accredited, not-for-profit online college focused on helping adults complete their degrees and advance their careers. The college contributes to the development of a diverse, educated, and career-ready society by valuing lifelong learning with an emphasis on serving individuals historically underrepresented in higher education. Founded in 1971, Excelsior meets students where they are — academically and geographically — removing obstacles to the educational goals of adults pursuing continuing education and degree completion. Our pillars include innovation, flexibility, academic excellence, and integrity. Learn more at excelsior.edu.
Excelsior College Media Contact:
Alicia Jacobs, ajacobs@excelsior.edu, 518-410-4624