Faculty Focus: Alayna Defalco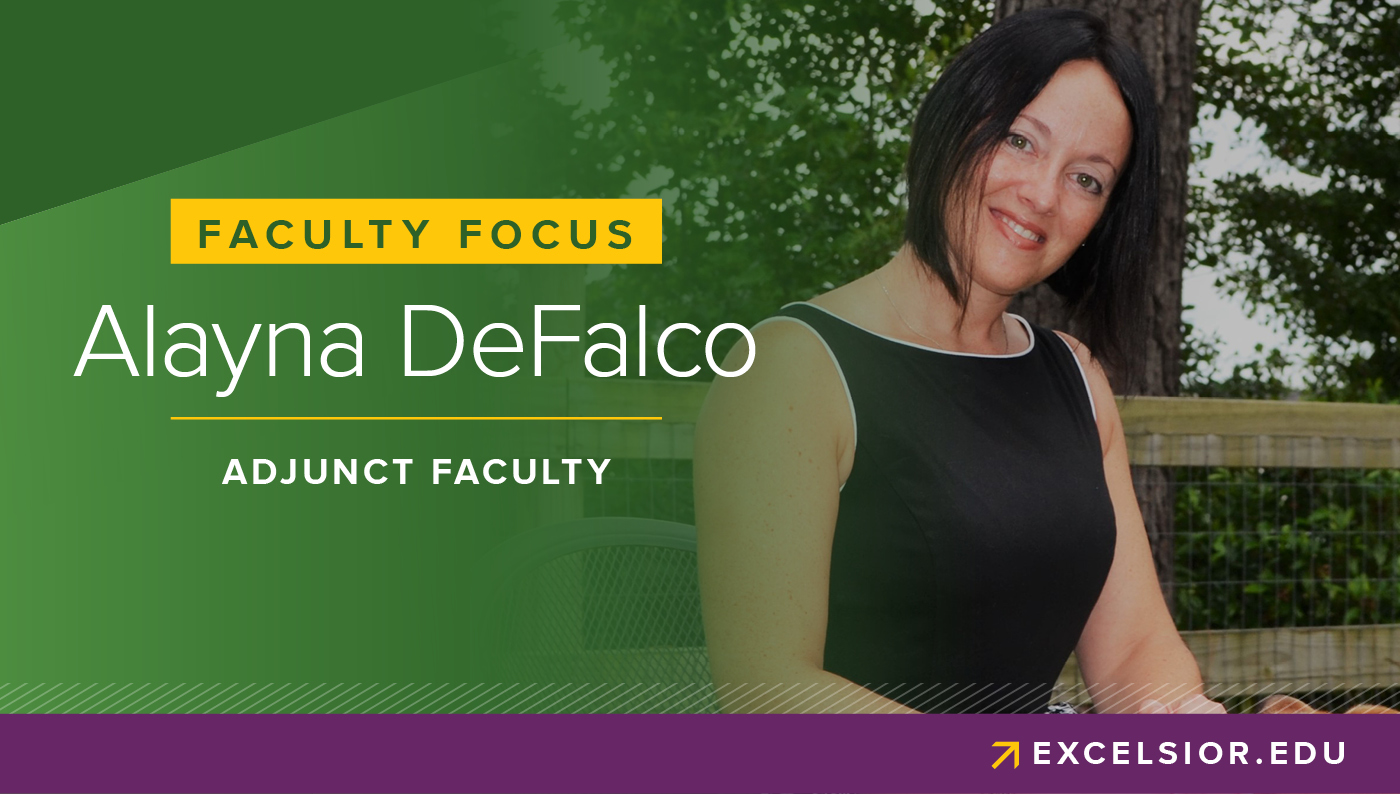 Alayna Defalco is passionate about the exercise science field and educating the public that sustainable physical activity is better than money-making fads and quick fixes that often cause more harm than good. As the instructor of such courses as Human and Animal Interaction in Healthcare, Exercise for Health, and Nutrition for Wellness, she teaches others that although the world may be about quick fixes, that's not the way exercise works.
Defalco has a bachelor's degree in communications and a minor in women's studies from Rutgers University and a master's degree in exercise physiology from Kean University. Since graduating, she has taught and developed a variety of undergraduate courses related to exercise science, exercise physiology, and recreation sports management for several different institutions. She also opened a clinical fitness center called Fit 4 Everyone in Conway, South Carolina, that caters to the over-age 50 population and educates and guides them as they move through their sessions so they are more comfortable with the facility. "This helps the medical field feel comfortable referring their patients to an education facility where they know they will not be left on their own," says Defalco.
Defalco came to Excelsior College in January 2014 and credits the "great leadership" as a reason she enjoys being a part of the College. She says, "Excelsior is full of a team of professionals that are there to help and guide students as well as support each other. Excelsior has also given opportunity to many that are unable to go to your traditional college in a campus setting. I love being part of a team that provides opportunity to others."
Defalco notes there are many more online options for education since she was a student. "This flexibility can allow someone to work and provide for themselves or their families," she says. She adds a reminder for students that when doing their work, to make sure they have a comfortable place set up, void of distractions. She explains, "This way, you know that when you go to your designated work area, you are there to do work, and nothing else. This could be an office in your house or quiet café with your favorite coffee."
Her advice for students wanting to succeed is all about communication. "Most faculty at Excelsior have much life and career experiences under their belts…just simply asking questions can get you far in your field," says Defalco. She emphasizes that Excelsior staff and faculty are always willing to answer questions or guide them in the right direction, and adds that students should also take advantage of volunteering at local organizations. "Volunteers that are dependable, show up, and show leadership will usually always come out with a job, or if not, a great recommendation," she says. Spending time at a career center (like Excelsior's Career Center), is a great way to develop and perfect your resume before applying for jobs, too, reminds Defalco.
When she's not teaching, you can find Defalco with her two children. Her 8-year-old son is active in sports and her 4-year-old daughter is her "little shadow." Defalco is also an avid weight lifter and "truly enjoys the transformation that weight lifting can do for a person when prescribed in the correct manner." She is dedicated to helping people succeed and advises students: "Don't be afraid to put yourself out there and get to know many people. You never know who that person will be to help you take that next step toward your goals."