Faculty Focus: Darhon Rees-Rohrbacher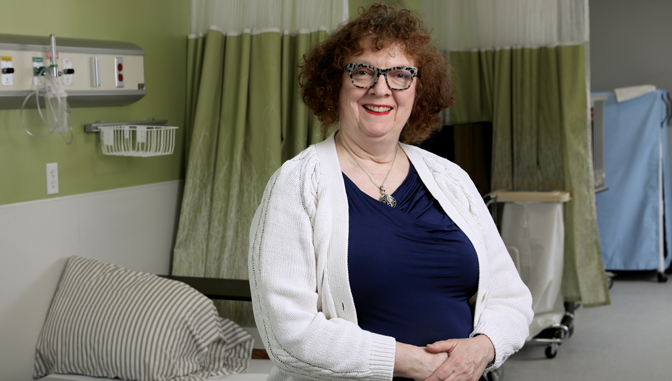 Darhon Rees-Rohrbacher's career path has been as colorful as her personality. She has been a lifeguard, a nurse's aide, a music teacher, a Spanish teacher, a Kelly Girl, and a registered nurse. Her wealth of experience eventually led her to Excelsior where she has been a faculty program director for the associate degree nursing program for the past three and a half years.
Originally from Cleveland, Ohio, Rees-Rohrbacher's first career was in recreation when she worked as a lifeguard and swimming instructor for the YMCA, Girl Scout camps, and city recreation departments. She attended Indiana University for music, eventually earning a BMus and MA and DMus in voice and piano.
She briefly lived in Biloxi, Mississippi, where she subbed in the public schools and taught private piano lessons at a local Air Force base. The following year, she worked as a nurse's aide in Columbus, Ohio, which gave her a taste for the nursing profession. Rees-Rohrbacher has worked as a "Kelly Girl"—the name given to temporary workers for Kelly Services Inc.—and has run both a private music studio and a custom dress alterations business. After earning her doctorate in music, she briefly worked as a medical transcriptionist but preferred teaching Spanish and music in both public and parochial schools. She learned to play the harp and started a small press for harp arrangements, Dragonflower Music, which she still operates.
When Rees-Rohrbacher moved to the Albany, New York area, she obtained a job at Albany Medical Center as a medical transcriptionist. She earned her LPN diploma from Samaritan School of Nursing and shortly after earned her associate degree in nursing from Maria College in Albany. For a time, she taught at several area colleges, but needed to continue her education to advance in her career, so she pursued and earned her Master of Science in Nursing in 2010 from Excelsior. She then gained a full-time position with the College, becoming a faculty program director (FPD) for the School of Nursing in 2015.
In her role as FPD, Rees-Rohrbacher makes sure the nursing courses are creative, informative, and engaging to students. She says, "Discussions are relevant, interesting, and delve into topics being covered in the course [and] interactive tutorials are creative and visually attractive." In addition, the module notes for each course provide additional information to enhance learning.
It's not just up to FPDs like Rees-Rohrbacher and course instructors to make a course effective, however; students must also bring their desire to succeed to the course. Tenacity, resilience, and organization are important for success, she says, and Rees-Rohrbacher has several tips for students—particularly nursing students—on how to stay organized. She suggests students keep a calendar to stay up-to-date with upcoming due dates and exams and set aside a block of time each day for studying and homework. She also suggests, "Organizing an entire course by week into a 3-ring binder and never removing items from that binder. I am a huge proponent of the 'binder' method for academic success."
When she is not in her FPD role, Rees-Rohrbacher is president of the local St. David's Welsh Society, vice president of the local chapter of the American Harp Society, performs regularly on harp and piano, continues to compose and publish new harp arrangements, and sings in her church choir. She is also the "parent" of some hilarious rescued parrots.