Faculty Focus: John Moore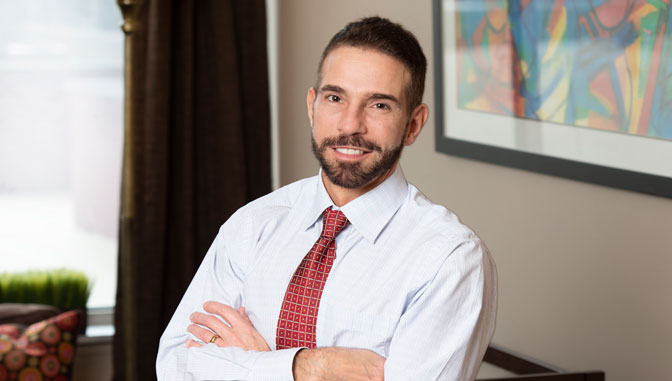 John Moore has done it all, from sweeping and mopping floors, to working in sales and marketing for large Fortune 500 companies such as IBM. His background is a hybrid of business and psychology, and he has found a love of working as a mental health counselor for people in business. His passion for his work transfers into his teaching, and he has much advice to help his students on their pathways to success.
Moore has a master of business administration from the Indiana Institute of Technology and a PhD in psychology from Northcentral University. In his capacity as a counselor, he works with executives and other organizational leaders, and he often conducts organizational wellness consulting. He is also a writer and runs a lifestyle, news, and education blog for men called Guy Counseling. "Many of the topics I pen pieces about directly relate to organizational psychology, business ethics, and career," he says.
In 2013, Moore began teaching with Excelsior and instructs BUS 523 Business Ethics for Managers and BUS 323 Business Ethics. He enjoys the diversity of Excelsior's student body and the various viewpoints he comes across in his courses. "I really enjoy working with students and helping them to reach their academic and career goals," he says. When he isn't teaching or helping others, Moore spends a lot of time at the gym and outdoors, camping, fishing, or hiking. "In our electronic world, it's important to disconnect," he says.
To help students reach their goals, Moore has some advice. He says, "To me, it all starts with motivation. I encourage students to remind themselves why they are pursuing the degree in the first place. This can help them to stay attached to their degree program." He also reminds students that time management skills are critical to getting and staying ahead. He explains that looking at assignments ahead of time and creating a strategy to work on them can be very beneficial. For example, he explains, "If there is a 10-page paper due at the end of the course, start working on that assignment early. This allows ample time for completion and, if need be, guidance."
His time management tips also include tackling the most difficult assignments first, or at least starting them, because it helps prevent procrastination, and to schedule blocks of time for studying. The most important thing, he says, is to remember to schedule time for self-care. "This means spending time on personal health or even relaxing. Family time also is important," he says.
He reminds students to pay attention to their work, too. "I've learned as a faculty member the importance of original writing through synthesis. The key thing a professor is looking at when reading an assignment is: 'Does this student understand the material and can they apply it to an assignment?'" Moore says filling up your paper with quotes and other "fluff" may seem like a good idea, but it doesn't show comprehension; it's important to show your understanding of the material.
When job hunting, Moore says it's important to make yourself available to recruiters. He says a good networking resource is LinkedIn. "But merely joining this social network isn't enough. Instead, I encourage students to join groups that are specific to their area of interest," he offers. He explains that recruiters are often part of such groups, and it can be beneficial to receive advice from others already in the field.
When finally landing the job, Moore's advice is to "Demonstrate your value to an organization and recognize that your skills are a commodity that hold great value. The trick is finding ways to cross-utilize those skills for the benefit of the organization and ultimately, you as the employee."