Faculty Focus: Sue Irvine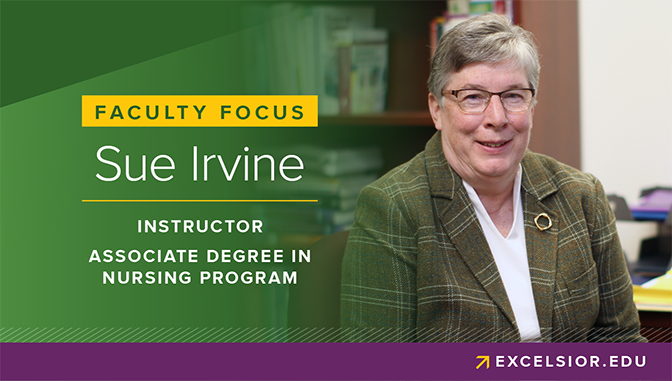 Sue Irvine wants students to have the right tools and education they need to succeed and do their very best. The Associate Degree in Nursing program instructor believes that with motivation, determination, and a strong support system, Excelsior students can go far.
Irvine graduated from Albany Medical Center School of Nursing in 1979 before working in critical care in cardiology. "My professional experience extended from providing care for patients immediately after experiencing a heart attack, to providing care during a cardiac catheterization and then outpatient cardiac rehabilitation," she says. Irvine then taught nursing at Samaritan Hospital School of Nursing in Troy, N.Y., before joining Excelsior in 2011 as a faculty program director in the associate degree program.
Being an Excelsior graduate is what prompted Irvine to say "yes" to teaching for Excelsior. "My student experience in the Master of Science in Nursing program at Excelsior was the incentive to say, 'I want to teach there someday,'" recalls Irvine, who earned her master's in 2009.
Her favorite thing about being part of the team is Excelsior's students, she says. Irvine loves teaching her students and so she wants to be sure they accomplish their goals. She enjoys that nowadays higher education acknowledges the needs of the adult learner, but she says students need to also take steps to take care of themselves. This was the best piece of advice she ever received in her profession. "This is applicable to the nurse and educator side of me. I'm not my best in either role if I am not rested or healthy," she says.
Irvine adds that current students struggling in their studies should learn proper studying and time management techniques. "Study in small blocks of time. More than two hours of studying at a time is not effective. A traditional college class usually breaks every 50 minutes. Give your brain a chance to absorb the material," she recommends. She also notes that students shouldn't be afraid to ask questions, noting that "real teachers" don't find any questions to be silly or stupid.
When students are looking to network or start job hunting, Irvine has several tips for them. "For the AD nursing students, use the AD Nursing Discussion Board on the Excelsior website. This board is a safe environment to ask questions about any part of the AD nursing program," she says, noting that students often use the board to form study groups. As for job hunting, Irvine's advice is simple: "Follow your heart. Nursing has so many different options for career opportunities and professional development." She adds to be aware of your potential employer's financial and work incentives for continued education and degree completion.
When she isn't teaching, you can find Irvine fishing and "looking for yarn for my next knitting project, preparing new recipes, and traveling." Always, though, you will find her rooting on her students and making sure they have the tools they need to achieve their dreams.