Five Minutes with Larissa Babbie, Director of Veterans Education Benefits, Financial Aid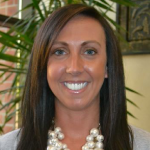 If you get the chance to meet Larissa Babbie you are in for a real treat.  It is not every day that you get to meet someone who is super passionate about what they do.  Larissa has worked for Excelsior College for over five years and graduated with a Bachelor's Degree with a dual major in Psychology and Communications from SUNY Albany.  As a former student, one piece of advice she wants to give to students is "Give it 110%.  Read and re-read the assigned textbook material.  Take the time to study before taking exams.  I gave just enough effort to graduate with two degrees but didn't really care about my GPA and I wish I had put in more effort." Read more to learn about Larissa's role in the Financial Aid Department and how it applies to you.
In 25 words or less describe your job.
I am the Director of Veterans Education Benefits and assist prospective and enrolled students with using their GI Bill® or VA Vocational Rehabilitation benefits at Excelsior.
What is the main role of your department in regards to students?
The VA team is housed within the Financial Aid Department. There are four people on my team who are solely dedicated to helping students who are using veteran's benefits. Our main role is to make sure that the school is compliant with the education benefit regulations put in place by the Department of Veterans Affairs. We also help students in the initial stage of setting up their benefits at the college, explaining the ins and outs of each benefit and how they work.  In addition we certify all enrollments for students using veteran's education benefits.
What are some common obstacles that students have and how do they overcome them?
Knowing how many credits they need to be registered for during each term in order to be eligible for either a pro-rated or the full amount of the Post 9-11 monthly housing allowance. I have been doing training sessions with all of the academic advisors from each school so that they are able to have that conversation with students about the requirements they need to complete their degree and the course approval stage. Also, knowing how their benefit works. There are benefits that cover students' expenses up front and there are others that require the student to pay up front and out of pocket. Speaking with someone in the Financial Aid/VA Office or at the Department of Veterans Affairs are excellent resources for gathering information.
What is the most important thing a veteran should know in regards to their educational benefits?
How the specific benefit they have been approved for works as far as payments go. Does the VA pay? Does the student pay? How many credits do I need to be considered full-time under VA regulations and also which office should they reach out to for specific questions about their benefit (should be to the Financial Aid/VA Office).
How can veterans obtain this information?
The Military & Veterans page on the Excelsior College website, the virtual veteran center also located within our website, and the VA's website.
Military & Veterans Page: http://cme.excelsior.edu/
Virtual Veteran Center: http://veterans.excelsior.edu/
VA's Website: www.gibill.va.gov.
What do you enjoy about working with students?
I love talking to students about their own personal accomplishments, aspirations and family life. Of course my main focus is helping students attain an education using their veteran's benefits but I really enjoy building the relationship with our students when they tell us about things outside of their education.
GI Bill® is a registered trademark of the U.S. Department of Veterans Affairs (VA). More information about education benefits offered by VA is available at the official U.S. government Web site at benefits.va.gov/gibill/.