Five Minutes with Meghan Rosebeck, Academic Advisor, School of Business & Technology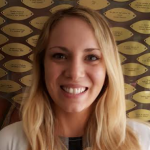 Meghan Rosebeck is one busy woman.  She is an Academic Advisor in the School of Business and Technology, serves as the Representative for the Business and Technology Student Advisory Council, won the MVP Advising Award this year, and completed her Masters of Science in Management at Excelsior College.  In fact you will see Meghan walking across the stage at the Excelsior College 2016 Commencement Ceremony!  Meghan knows what it is like to lead a busy life and balance school at the same time.  Read more to learn about Meghan's tips and tricks as an employee and former student at Excelsior College!
What do you enjoy about working with students?
I think what I enjoy most about working with students is the fact that I am able to help them progress in their studies, and subsequently their futures. Words cannot express how rewarding it is to see each of my students reach their ultimate goals of degree completion and career progression. I also thoroughly enjoy learning about the diverse backgrounds, interests, and goals of each of our students. We truly have an amazing student population that contributes to the diverse nature of Excelsior College.
What is one thing you wished students knew when they started the program?
One thing I wish students knew upon enrolling into a degree program is just how spectacular the feeling of degree completion is. Sometimes I try to give students a visual of the impact their degree will have on their self-esteem, their family and friends, and their career paths. I find that providing a visual of the end-point of the program is very motivating to students who may otherwise feel overwhelmed by the length or complexity of their program. So to sum it up, I wish our students could foresee just how impactful obtaining a degree of any level is to their personal lives at the start of their program.
What is your favorite resource at Excelsior College?
While I am fond of all resources available at Excelsior, I would have to say my favorite resource at the college is the Career Center. They have so many great tools to help both current students and alumni find and secure careers in their area of interest. They offer self-assessments to help students determine the best career fit for them based on their interests or degree programs. They also offer a resume and cover letter critique to help our graduates and current students secure their dream jobs. Now they even have a mock interview tool so that students can work on their interview skills before going in to a real interview! I am so proud that the college offers such resources to students and alumni. After all, the majority of our students are seeking degrees to progress their careers, and what better service could we offer to such dedicated individuals?
As a recent graduate from Excelsior College how did you stay motivated in school?
The light at the end of the tunnel was what got me through. I knew I needed to complete my Masters degree before I could move into the area of Academic Advising, and so I had to bridge the gap from where I was to where I wanted to be. Just knowing that there was a light at the end of the tunnel (ie: a new career path) motivated me throughout my program. I also had a really great support system. My family, friends, and colleagues encouraged me all along the way, which really made a difference. I felt that I owed it not only to myself, but to my family, to finish my degree and make a better life for myself. I got a spark of motivation each time I finished a course and started a new one because I knew I was one step closer to making that dream of obtaining a Masters degree come true.
How did you balance work with school?
I always tell my students that my secret to success was my agenda. At the beginning of each term, I would sit down with my syllabus and my agenda and pre-plan the entire term! Having a plan in place early on to complete assignments and holding myself accountable for that plan was a major way that I balanced my work and school life. Of course my social life suffered for a while, as I had less time for fun with school, work and running a household, but it was completely worth it.