Flying High! How Higher Education Supports the Growing Drone Industry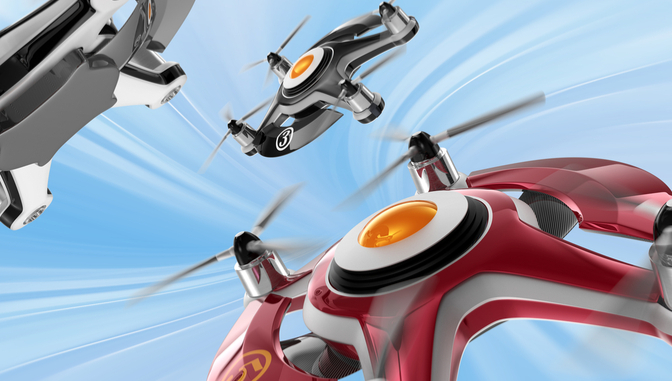 Have you ever watched drone races on ESPN? Or imagined yourself flying drones through an obstacle course? High-speed, racing drones are equipped with the latest collision avoidance systems that can detect obstacles and intelligently navigate around them. But this dexterity in the air doesn't just make for good sport. Amazon, law enforcement agencies, realtors, and a range of other organizations are using drones in an increasing number of ways in their operations.
The growing adoption of this innovative technology has also attracted the attention of regulators.  Governor Cuomo of New York recently announced a new Drone or Unmanned Aerial System (UAS) program, which will be used by law enforcement agencies to support law enforcement missions (Lillian, 2018). Law enforcement and emergency response agencies used drones for search and rescue operations during disasters, such as during the aftermath of Hurricane Irma in 2017.
Amazon was granted a patent on technology that would allow its drones to deliver packages by parachuting them from the sky and self-destructing in the event of an emergency. Additionally, drones are being used by utilities to inspect train railways, power lines, and gas lines, which provides a safe and efficient method for inspecting critical infrastructure. Additionally, the nuclear industry is exploring the use of drones to conduct required inspections that can reduce cost and improve safety.
All of this activity means there is an increasing need for highly trained operators and technicians. This is where the role of higher education comes in. Experts say the drone industry could generate as much as $89 billion dollars over the next decade as high-tech jobs are needed in designing, manufacturing, operations, and the maintenance of fleets of drones. It is estimated that a drone economy could create more than 70,000 jobs and have an $82 billion- impact on the U.S. economy by 2025). With drone technology expanding, there is a need for trained operators and maintenance personnel to meet this growing industry.
Higher education institutions like Excelsior College are looking at ways to train this next generation of skilled workers. Curriculums will focus on Federal Aviation Administration requirements, aerodynamics, computer programming, design, and maintenance.  Excelsior is also exploring an option to offer a drone course in the Associate in Applied Science in Technical Studies program. The course will introduce the use of drones, including regulatory requirements and an opportunity to explore careers in the drone industry. Excelsior will continue to monitor the industry and determine if an online UAS program is feasible and supports our students in their careers. When it comes to drones and drone technology, Excelsior is "flying high," developing programs that will enable our students to compete in this exciting and dynamic industry.