Faculty Focus: Ken Desforges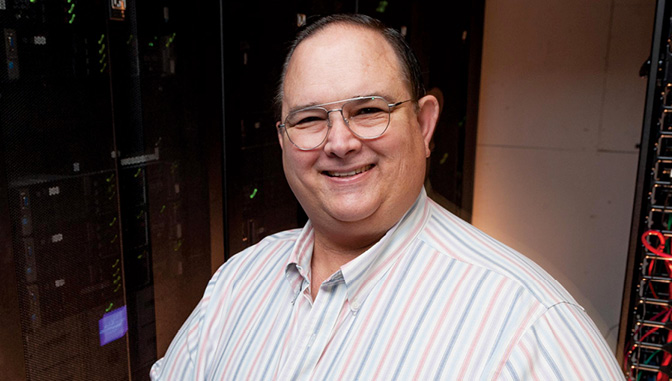 Being a former student, Ken Desforges—a 2010 BS in Information Technology graduate—understands firsthand the kinds of obstacles Excelsior College students must overcome to pursue their education. Now, as a member of the faculty, he can help students succeed, using both that firsthand knowledge and the unique experience gleaned from years of instructing and developing courses.
Student Turned Excelsior College Faculty
Going from student to instructor has worked out well for Desforges, who says he follows in the footsteps of those who came before him. "Now, I get to share the knowledge I have with those who are following me in the profession I love and which has been very rewarding for me and my family," says Desforges. "I hope that I help this next generation of students achieve their academic and professional goals."
Desforges is director of information systems for the city of Diamond Bar, California, and has been an Excelsior cybersecurity and IT faculty member for nearly eight years. In his roles as an instructor, course developer and reviewer, and subject matter expert, Desforges has developed, rewritten, reviewed, and taught more than 30 courses. He has developed CYS 245 Introduction to Cybersecurity and CYS 460 Cybersecurity Investigation and Case Studies; rewritten IT 402 Network Security and IT 404 Web Security; and taught courses including CYS 245 Introduction to Cybersecurity, CYS 460 Cybersecurity Investigation and Case Studies, CYS 585 Digital Crime Prevention and Investigation, IT 404 Web Security, and IT 406 Computer Forensics. He currently teaches undergraduate and graduate IT and cybersecurity courses as needed.
To succeed in his—or in any of Excelsior's—courses, Desforges has a few tips. First, he warns students to stay on schedule and to catch up quickly if they do fall behind. Second, he says, "Do not be ashamed to say, 'I don't know' or 'I need help.'" He says students should use all resources available, too. Last, it is most important for students to communicate. Desforges explains that faculty and advisors are there to help when "life happens"; they are more than happy to help students with whatever challenge they are facing. Similarly, Desforges says it is important for Excelsior students to be willing to find that work/study/life balance that works for them and not to quit their studies.
Desforges wants to see his students succeed beyond the classroom, too. When job searching, Desforges says to "treat getting a job as a job." He says, "Know what is important to you: regular hours and predictable work or new projects very frequently; fixed location or exciting travel, etc." He also recommends students connect with others on LinkedIn and "join the student chapters of your professional associations while at Excelsior and your local chapters where you live or work."
After earning his degree from Excelsior, Desforges became an industry advisor while completing his master's. "Then I just kept saying yes to every opportunity that was offered to support my alma mater," he says, and notes the positive interactions he has had with his students continue to fuel his efforts. With his instruction and advice, his students can succeed on their educational and professional paths, as well.