Humanities Courses Premiering January 2017
HUM305 Think Big: Innovations in Art, Communication, and Culture 
Would you like to develop or increase your ability to think, create, and lead in new ways?
This class investigates historical and contemporary innovations, both locally and globally. Listen to Stephen Johnson, a captivating media theorist, who will tell "the story of people who take us out of the dark and into the light. Hear about Edison's light bulb, which he didn't actually invent, and learn how an 18th-century ship's skipper discovered a source of illumination by putting a kid inside a whale's head.
So this is not any old history course, but a fascinating contemporary exploration of how and under what conditions innovation has occurred. This class explores both eureka moments and the deliberate collaboration it requires to generate transformative ideas. We will investigate innovative solutions from across the globe, in the workplace, and in your personal life. No matter what your interests or occupation– from technology to business to the arts–this course offers you tools to learn how to think big.
No textbook is required for this class. This course utilizes all open education resources (OERs) in order to keep the cost low for students and to keep current with new developments in innovation.
HUM321/NUR321 I Feel Your Pain: Illness and Empathy in the Arts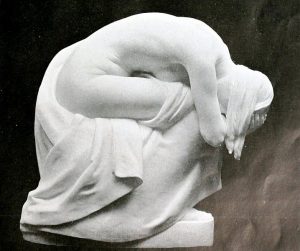 How do people experience being ill, and how does it change their lives? Children, parents, family, friends and even we, ourselves, will struggle with sickness, disease, and death. People do not simply suffer from diseases, but from the emotional, psychological, social and cultural dimensions of being an individual or a patient with a disease.
What are the obstacles and triumphs experienced by a boy with autism? How does a woman with cancer feel about losing her hair? What's it like for a transgendered person to be treated at a hospital? What is the anxiety felt by the caregiver over the years?
The Arts and Humanities deepen an individual's ability to feel and understand the suffering of others. Through the use of film, music, art, poetry, and fiction, students feel and experience how illness or disease affects individuals; they also learn about illness from different perspectives, such as race, class, gender and sexual orientation. Lastly, this course provides many alternative perspectives on illness or the practice of medicine—outside the conventional views of medicine—concerning death, mental illness, grief and suicide. This course provides you with inspiration for personal or professional growth, enhancing your ability to relate to those who are ill or dying.
No textbook required for this course.
HUM350 War Stories 
War has been pervasive throughout time and across place, but this course explores the variation in frequency, duration, and severity of wars through a compelling blend of literature, history, journalism, and film.
How do stories shape our culture and our perception of war?
Read stories from officers, the enlisted, prisoners of war, citizens, and even from the enemy. Read about a nurse's experience from the Civil War or a Japanese soldier at Iwo Jima. People come to expect certain kinds of war stories to be told, but we'll also examine "hidden" and even "untold" stories as well. Discuss controversial elements of war such as drone warfare or torture. Debate whether commercialized or falsified war stories are dangerous to America.
Class discussions and assignments continually invite students to examine the grit and grace of war. One assignment asks students to gather spoken accounts of war shared by family or friends, some of which have resonated for generations. Lastly, we'll watch popular movies like Zero Dark Thirty and Lone Survivor, and then consider the resonance of war stories in society.
Required books for the class are reasonably priced and two books are free e-books. No exams or quizzes.
COMM312 New Media, Relationships, and You 
Like it or not, social media, digital communication, and smartphones are rapidly altering how we relate to one another in our personal and professional lives.
Do social, economic, and cultural conditions that define our lives in the real world follow us online? Do our online actions increasingly shape our offline identities?
This class will explore how social forces such as race, gender, and culture affect digital communication, while also exploring related topics of workplace communication, issues of privacy, unconscious bias, and internet celebrities. Lastly, we'll also investigate controversial behaviors like sexting, trolling, transhumanism, and terrorism online. Because having knowledge and practical skills of new media makes students more marketable, the class includes practical assignments with real world application.
The textbook is reasonably priced, and all additional readings or viewings are from open educational resources (OERs).
You can find more information on these courses through the Course Search  on our website. Speak to your advisor to see if they will fit with your degree plan