A Humbling Experience: Lisa Giarda Receives Distinguished Faculty Award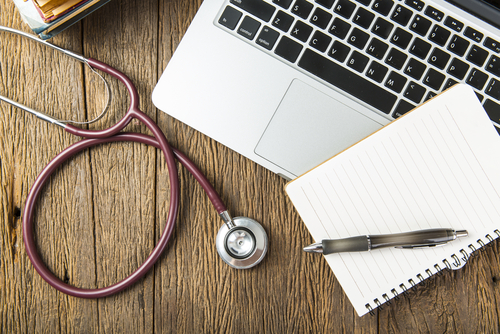 At the Faculty Luncheon on July 13, Lisa Giarda of the School of Health Sciences was recognized as a Distinguished Faculty Award recipient. As reported in her nomination, she is knowledgeable, friendly, available, and works closely with students to clarify material and instruct them one-on-one. Furthermore, students "clamor" to take courses she teaches even though some of them might be intimidating, like Budget and Finance and Economics.
Giarda was humbled by her award, and noted she does her job simply because she loves it. "I love what I do: making [students] apply, sharing my experiences, listening to their experiences," she says of teaching Excelsior's students, which she says are the best students she's taught.
Giarda was always interested in management and followed the teaching path. She studied psychology and health care, and worked in health-care management services where she consulted with many physicians and startup companies. Her path led her to Excelsior College in 2013 where she now teaches many courses in the School of Health Sciences and has developed several others, including Budget and Finance in Health Care Organizations, Human Resource Management in Healthcare Organizations, and Economics of Health Care. She also teaches for Kaplan University and formerly taught at the University of Phoenix.
Giarda believes it's "important to connect with each student." Her style of teaching reflects this belief in that her students have called her "a great communicator." She claims she sticks to an open-door policy and has no problem speaking with students on the phone or emailing with them about an assignment or project. She doesn't want to take all the credit, though. Giarda praises colleagues for their support and encouragement, saying that "knowing that they are supporting me helps me continue to support the students the way I know best."
There's an immediate disconnect with students when teaching online, she explains. That's why it is so important to make every effort to connect with students. Her advice to do so? Send more messages, engage, reach out. "Tell [the student] they have so much to offer," she says.
She often shares stories, tips, and tricks with her students, encouraging them to take part in the discussions each week and offering clever ways to avoid plagiarism. For example, she recommends bolding an author's words in red in your paper, thinking about what their words mean to you, and then writing down your thoughts.
"I'm successful if you're successful," Giarda says of her students, "I don't want any one challenge to get the best of you." She believes challenges are there to show a person how much they can accomplish and that you can achieve just as much as you believe you can.
Giarda says she's always growing and trying to become a better faculty member, often taking advantage of faculty development opportunities. "I'm like that lifelong learner," she says, noting she's learned the good and the bad from her mistakes over the years. Now she's passing on that knowledge to her children—two have graduated college and two are currently enrolled—and to her students. It "makes me feel better that I'm able to help them change their lives," she says. "This is where I'm supposed to be: creating the future leaders."