Latest Issue of N21 Examines Ageism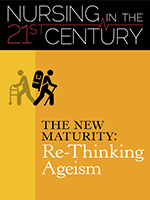 Issue 6 of N21: Nursing in the 21st Century, edited by Maureen Boshier and published by Hudson Whitman/ Excelsior College Press, is now live.
The theme is The New Maturity: Rethinking Ageism, and the issue offers a look new methods of coordinating care for older patients, and different ways nursing education and workforce are preparing for the burgeoning number of patients over the age of 65. Contributors offer perspectives from contributors from the Hartford Institute of Geriatric Nursing, MyCare Ohio, a ground-breaking integrated care delivery system, and National League for Nursing.
The journal is free and optimized for web, but can also be viewed on mobile devices. Make sure to take advantage of the video and other enhancements within each article!