Using His Knowledge to Help Others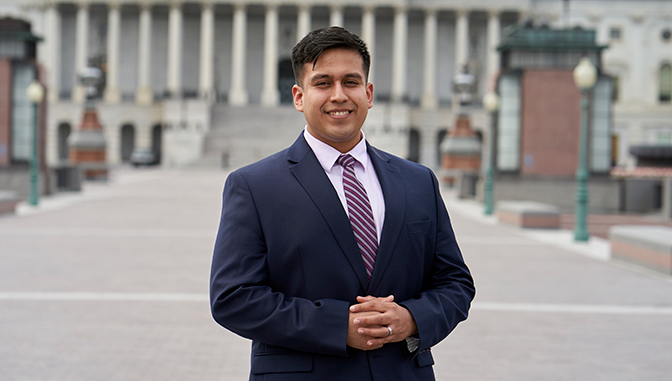 Axl Castaneda plans to use his public service degree to pursue a rewarding career in counterintelligence
Axl Castaneda may not have followed a path into national security if it hadn't been for the Boston Marathon Bombing in 2013. His father and sister had been near the finish line where the two bombs had been placed, but five minutes before detonation, they decided to leave to get something to eat. It was a choice that potentially saved their lives. That convinced Castaneda to enlist in the Army and pursue a career in counterintelligence so that he could prevent similar acts of terrorism in the future.
In his six years, as a sergeant in the U.S. Army, Castaneda, of Fort Belvoir, Virginia, has worked in human resources and as a counterintelligence special agent, his current role. He attended Central Texas College in Killeen, Texas in 2015 to complete his associate of arts in general studies, and after hearing CTC was a partnership school with Excelsior College, he decided he would transfer in credits to pursue higher education with the online school. In 2019, he earned his bachelor's degree in National Security with Excelsior. "The whole program was really flexible with my schedule," he says. Sometimes his schedule made it difficult to keep up with assignments, but his professors were understanding, allowing him extra time to finish work. He also learned to set his own study/homework schedule, which helped him focus, and he suggests other students do the same to keep on track and not fall behind. "I used to do the same routine regularly; it took discipline to stick to one schedule every week," he says.
Castaneda is still in the Army, but in 2019, he also obtained an internship with the U.S. Department of State working in counterintelligence. He has been developing a counterintelligence program for the Bureau of Medical Services where he works. Not only is it rewarding to develop ideas and see them to fruition, Castaneda says, but he also uses knowledge from his time in the Army as well as from his studies at Excelsior. "I basically combined my counterintelligence experience with my degree out of Excelsior," he says, adding that it is rewarding to be making such an impact even though he is an intern. Castaneda works with national security policymakers and says the national security courses he took at Excelsior help him understand the policies and strategies often discussed.
When he retires from the Army, Castaneda plans to stay with the U.S. Department of State. He keeps the Boston Marathon Bombing in the back of his head as a driving force for what he wants to do. "I think my goal is to keep working in the intelligence community and make sure that people are safe, whether it's here in the U.S. or in other countries," he says. He also wants to improve his technical skills so he is more well-versed in cybersecurity since cyber intelligence will play a role in his job. He is currently enrolled in the applied intelligence program, concentrating in cyber intelligence, at Georgetown University.
Castaneda encourages those looking to enter the national security career field, particularly veterans, to network. "I didn't think networking was a big deal, but then transitioning from military to civilian, I realized that networking is very important," he says, and adds that peers often offer great advice on where to search for jobs or mentorship. He says without talking to the right people, he wouldn't be where he is right now.
And right now, he's concentrating on the goals in his five-year plan. He says it's helpful to set goals five to 10 years out when planning your future; it's what has helped put him on his path to working at the U.S. Department of State. "What do you see yourself doing five years from now, 10 years from now? And from there, just take it step-by-step and get to where you want to be," he says.