New Course: Witches
New Course Premiering in Fall II
HIS285/ENG285: Witches: a Literary and Cultural History
Double, double toil and trouble;
Fire burn and cauldron bubble.
–William Shakespeare, The Tragedy of Macbeth, Act 4, Scene 1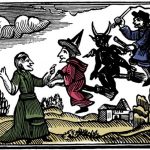 Picture in your mind the stereotypical image of a "witch" –a woman, often elderly, riding on a broomstick, perhaps making potions and reciting incantations, after having "sold her soul" to the devil.
Where did that stereotype come from? What is the real history of witchcraft and how has the image of the witch been used in works of literature from Shakespeare to Arthur Miller? Take HIS285/ENG285: Witches: A Literary and Cultural History to find out.
From today's perspective the notion of the "witch craze" of the sixteenth and seventeenth centuries seems outrageous – how could people be executed for crimes that today, most of us would agree, they could not have possibly committed? Crimes might include participation in a diabolical cult, communing with the devil, and acts of dark magic to harm their neighbors, including killing their livestock and causing disease outbreaks.
To understand the witch craze of early modern Europe and the most notorious American example in Salem, MA, you must put yourself in the "magic mentality." Students in HIS285/ENG285 will learn the mentality of the era that led people to look to the supernatural for explanation, including witchcraft and dark magic, or as it was known at the time, maleficia. Students will also consider the questions posed by scholars about the rise and decline of the belief in witchcraft, such as: how was it related to the consolidation of state power in Europe and the Protestant Reformation? How did it fit with society's perceptions of gender? For example, was witch-hunting an attack on women?
As students learn about the true history of witchcraft accusations and trials, they will also compare the historical reality to works of fiction from the era. To what extent, for example, were the Weird Sisters of Shakespeare's Macbeth, who uttered the famous lines above, a reflection of the fears of the era?
Finally, students will turn their attentions to the present day representations of witchcraft in society and the media. How has our perception of witchcraft, including the religion of Wicca, changed since the height of the witch craze and in what ways do our pointy-black-hatted costumes on Halloween still serve as a reminder of the centuries old history?
This course is cross-listed in History and English and can be used to satisfy either Social Sciences or Humanities requirements.
You can find more information on HIS 285/ENG 285 through the Course Search on our website.  Speak to your advisor to see if it will fit with your degree plan.  The Fall II term begins on October 19, 2015 with regular registration open until October 16.