Paludi's Latest Book Cited as Top Social Science Resource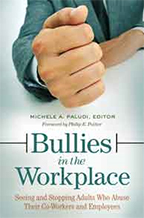 Choice: Current Reviews for Academic Libraries named Michele Paludi's book, Bullies in the Workplace: Seeing and Stopping Adults Who Abuse Their Co-Workers and Employees, as a top 75 community college resource in its February issue.
Pauldi is faculty program director of human resources and leadership in the School of Business & Technology.
A  publication of the Association of College & Research Libraries, Choice is the premier source for reviews of academic books and digital resources of interest to scholars and students in higher education. More than 22,000 librarians, faculty, and key decision makers rely on Choice magazine and Choice Reviews Online for collection development and scholarly research. Choice reaches almost every undergraduate college and university library in the United States.