Simulation Places a Role in Online Learning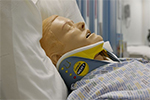 By Tresa Kaur Dusaj, PhD, RN-BC, CNE, CHSE, CTN-A
Faculty Program Director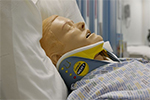 One of the reasons simulation was introduced in nursing was due to the shortage of clinical sites. It was first used by NASA and quickly found its way into the aviation industry, business, medicine, and now technology. Today simulation has been infused into nursing curricula across the world. This innovative teaching allows students to safely practice nursing skills, interventions, and reasoning without fear of harming the patient. Simulation comes in many different forms ranging from standardized patients to virtual reality.
Many ask how simulation takes place in the online learning environment. One such simulation that you may encounter is a computerized simulated patient. Imagine taking care of a virtual patient who is complaining of shortness of breath and persistent cough for three days. You may be asked to assess the patient, formulate nursing diagnoses, plan nursing interventions, create a teaching plan, and evaluate patient outcomes. These are similar skills that you will practice in the clinical setting. Clinical judgment and reasoning skills are also utilized during these scenarios.
I am a firm believer that simulation can be used as an adjunct to clinicals and possibly more. In a landmark study, the National Council State Boards of Nursing's recent study supports to use of high fidelity human patient simulation as a replacement of 50 percent of clinical time (Hayden, Smiley, & Gross, 2014). Thus, simulation is a valid replacement of some clinical time. This fact has great implication for nursing students, faculty members, and nursing education.
Innovative teaching strategies in nursing education must be supported by research. Simulation continues to grow and expand as a valid way to educate nursing students. Online simulation remains an adjunct to clinical learning and more research in this area is needed.
Reference
Hayden, J. K., Smiley, R. A., & Gross, L. (2014). Simulation in Nursing Education: Current Regulations and Practices. Journal Of Nursing Regulation, 5(2), 25-27 3p.
Photo credit: Chris Ison / PA Archive / Press Association Images / Universal Images Group