Urgent Care: Chris Colter delivers life-saving treatment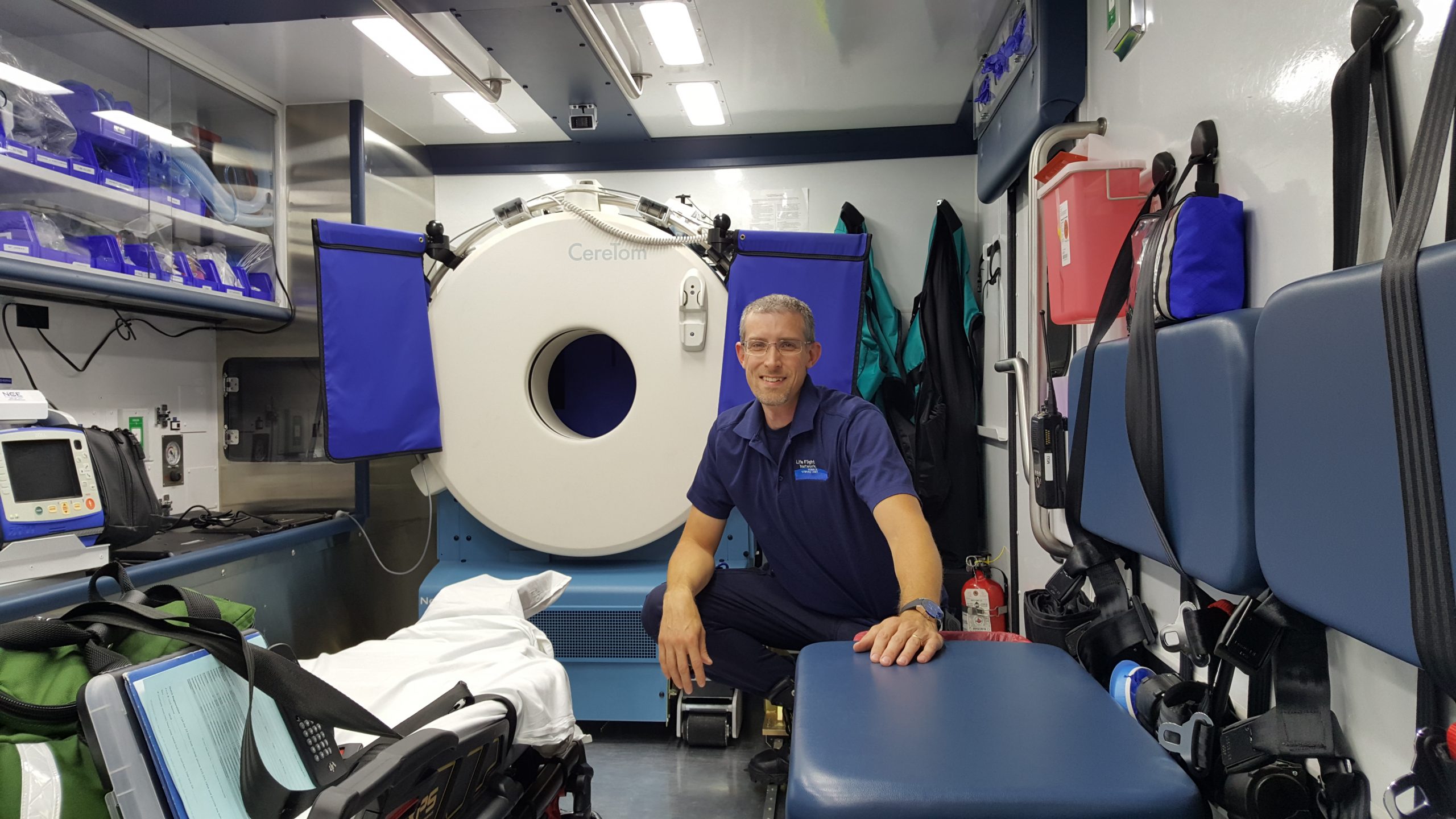 Nothing in his 20-year medical career, Chris Colter says, compares to the moment the mobile stroke unit he works on went into operation.
Colter, of Riga, Michigan, serves as both a critical care nurse and paramedic, working alongside a CT technology expert and medical doctor on Michigan's only mobile stroke unit. An operation of the Mercy Health Neuroscience Institute in Toledo, Ohio, the unit provides urgent, on-site medical attention to patients suffering from cases of hemorrhagic strokes, blood clots, and other life-threatening circumstances. While this kind of specialized mobile stroke unit has been implemented in Germany and the United Kingdom for almost a decade, the Ohio-based unit is the fourth in the United States.
Strokes occur when a blood vessel that carries oxygen and nutrients to the brain is blocked or has ruptured. According to the American Stroke Association, approximately 795,000 Americans suffer from a new or recurrent stroke each year and it is the fifth leading cause of death. Studies show the mobile stroke units are quicker to diagnose strokes and related conditions and deliver life-saving treatment than conventional approaches.
"What we're doing is bringing the emergency department with us," says Colter of his role. The mobile units resemble an ordinary ambulance, making it "an emergency room on wheels." On a typical day, the mobile stroke unit is able to assess for the possibility of a stroke through use of a CT scanner and convey both to the family and patient the best way to treat a diagnosis. "We have a lot of responsibility that goes along with being on the cutting-edge of stroke care and we take that very seriously," says Colter, a July 2016 graduate of the RN to Master of Science in Nursing program who also earned an Associate in Applied Science in Nursing at Excelsior College in 2013.
Colter has found a common ground for aligning his passion for helping others with his personal and academic career. He worked as a paramedic for 15 years before becoming an RN, and while pursuing his degree, he volunteered as a firefighter and fire chief for his local fire department. Colter explains that some of the duties in his current role of working at the mobile stroke unit are routine, but he anticipates unexpected activity the three crewmembers (RN, Paramedic and CT Tech) will have to tend to during their shifts.
They begin each shift with a rig check to know all the equipment is present and in good working order. Then the mobile stroke unit crew completes any ongoing education that is required for the hospital. In addition, the crew works together to review a different policy and procedure each week along with a piece of equipment. The mobile stroke unit staff also makes in-patient stroke follow-up phone calls and provides follow-up to the EMS agencies for mobile stroke unit transports, among other duties. "Of course, this can all change in the instant when the pagers go off and a patient needs us," says Colter. "When we arrive we are coming with the doctors, labs, and scanners that you would receive if you arrived in the Emergency Department. We can administer drugs — including tPA — to begin to treat the stroke. Other than the Emergency Department, only a mobile stroke unit offers this level of care."
Colter began working on the mobile stroke unit during his final year of the master's program. "I was using what I learned at Excelsior as I was working in this role," says Colter. "The Mercy mobile stroke unit in Toledo, Ohio, went live during my final semester. In fact, I did my final project for my Excelsior degree on mobile stroke units." Colter presented on the topic of "Integration of MSU into the Community" at the Mercy Health Neuroscience Institute Stroke Symposium on June 4, 2016.
"The skills in leadership and research I learned at Excelsior have combined with my experience to help me to effectively research and communicate at conferences," Colter says. "I plan to do more presentations at events for hospitals, fire departments, and to EMS providers. I also will be working to help communities learn about this new technology."
Being a part of the mobile stroke unit has sentimental value to Colter, a husband and father of four. His daughter has Moyamoya disease, a genetic disorder in which certain arteries in the brain are blocked, causing blood clots and disruption of blood flow. "This program really hits home," says Colter. "Knowing that there is a service like the mobile stroke unit 10 minutes from my home really adds a comfort level for my family. Our hope at the mobile stroke unit is that we are able to provide that same comfort for the rest of the community."