Writing Letters of Recommendation for Students – What's the 411?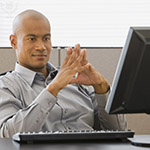 By Maribeth Gunner Pulliam, Director, Career Services
As dedicated educators, Excelsior College faculty strive to empower students to achieve their educational and career goals. In turn, students who are nearing completion of their bachelor's degrees often look to faculty with whom they have a good rapport for assistance with future career and educational planning. This may include discussions surrounding whether to seek a graduate degree, employment, or both. For students that may be indecisive regarding their next steps, faculty have the option to refer them to the Career Center for free counseling with professional counselors.
Students who are able to pinpoint which of the two avenues their professional path will take next are likely to request that their instructor write a letter of recommendation to accompany a graduate school or employment application. Similarly, faculty who have identified students that appear motivated to continue their educational or career trajectory may offer to write a letter of support on the students' behalf. Either way, before any letter is drafted, it's essential that faculty gather relevant information and provide a clear set of guidelines for the students to ensure an efficient process that will result in a positive, strong, and authentic letter of recommendation.
Here are some pertinent points to consider when writing a letter of recommendation for a student.
A task worth the effort
Writing a letter of recommendation for students in just another extension of the many different ways Excelsior College faculty share their knowledge, support, and pride in their students. If a student has requested a letter of recommendation from a specific instructor, generally it is because they have had a positive experience in his/her class, either due to the content, the teaching approach, or both.  This speaks volumes, as the instructor-student relationship in a distance learn setting poses a different challenge than that of a traditional in-person classroom setting.
Fortunately, current technology allows Excelsior faculty the ability to establish an engaging classroom community through a responsive online learning environment that hosts various modes of content delivery, and several communication tools. This, coupled with the faculty's eclectic experiences and personalized approaches provide many ways to connect with students. These genuine interactions enable faculty the opportunity to obtain a multifaceted view of their students, so when there is a request for a letter of recommendation, a foundation is already set.
Excelsior faculty with further questions or comments regarding letters of recommendation including guidelines for the use of College branded stationary, should check with their respective program directors or Wendy Trevor, executive director of the Center for Excellence in Teaching, Learning, and Assessment.
Image Credit: JGI / Blend / Learning Pictures / Universal Images Group