First Excelsior student receives nuclear scholarship from the U.S. Department of Energy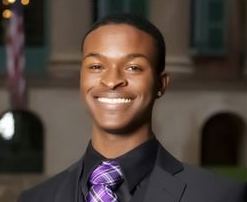 Zykeedric Free is the first Excelsior College student to receive a Nuclear Engineering University Program (NEUP) Scholarship offered by the U. S. Department of Energy. Free will receive a $7,500 scholarship for the 2017-2018 academic year. He is enrolled in the Bachelor of Science in Nuclear Engineering Technology to MBA dual degree program.
A native of Columbia, South Carolina, he resides in the historic city of Charleston, where he is a Patient Access Supervisor for the ER Department at East Cooper Medical Center. Free is a 2015 Theatre and Dance graduate of the College of Charleston. He is a proud brother of Alpha Kappa Psi – The Professional Business Fraternity – a new member of the American Nuclear Society, and a lifetime VIP Donor of the American Red Cross.  In his spare time, he loves to spend time with family and friends and going to the movies.
The U.S. Department of Energy awards more that $5 million for 58 undergraduate scholarships and 31 graduate fellowships to students pursuing nuclear energy-related disciplines at universities in the United States. Through the NEUP Scholarship Program, undergraduate students receive a $7,500 scholarship.  Excelsior College applied for the NEUP Scholarship Program and was accepted for the scholarship in late December 2015. Students can apply for The NEUP Scholarship only if they are enrolled in an NEUP approved college or university and are studying nuclear science or engineering.
The NEUP Scholarship is a highly competitive program with students from prestigious universities such as MIT, Georgia Institute of Technology, Purdue, Pennsylvania State University, Texas A&M University, etc. applying for the scholarship. This is a testament to the quality of our students and our degree programs. You can see a list of schools with students receiving the NEUP Scholarship at https://neup.inl.gov/SitePages/FY17%20SF%20Recipients.aspx.
Congrats to Zykeedric Free, the first Excelsior student to receive a Nuclear Engineering University Program (NEUP) scholarship via @ENERGY ? pic.twitter.com/cl9NWVESNO

— Excelsior College (@ExcelsiorColl) May 23, 2017