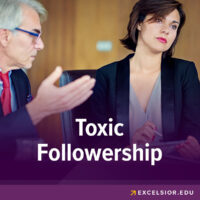 Alumni Webinar: Toxic Followership
Our next webinar in the Organizational Leadership Series will focus on the toxic follower. The understanding of toxic leaders is becoming more common in the workplace while toxic followers are not well understood and sometimes ignored as "problem employees." Join us for this webinar that covers topics such as the identification of a toxic follower, the damage they can cause, and how to deal with these individuals.
This webinar will benefit any participant who is a leader of a group that may have some internal conflicts or unexplained inefficiency. Any leader who says "that's just how Bob is" may have a toxic follower and may find this webinar useful. Additionally, this webinar may be of interest if you are curious to learn more about the concept of followership and how it contributes to the characteristics of leadership.