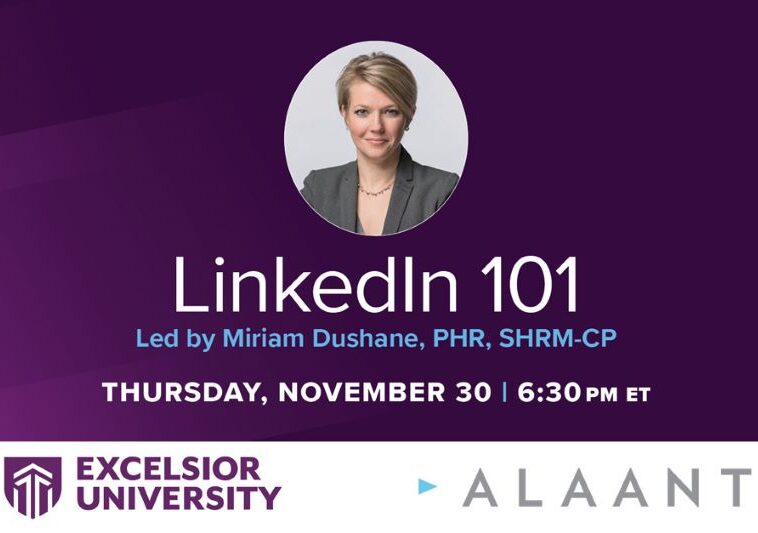 LinkedIn Professional Development Webinar Series: LinkedIn 101
Join us for the first webinar in the LinkedIn Professional Development series on Thursday, November 30, 2023, at 6:30 p.m. ET. This presentation will be led Miriam Dushane, managing partner for Alaant Workforce Solutions, in partnership with Excelsior's Office of Development and Alumni Engagement.
Alaant is the next generation of Linium Recruiting, which Dushane launched in 2006 and built into a powerhouse. In 2018, she rebranded the business as Alaant, broadening its expertise and resources to expand into two innovative practice areas – Employer Brand Strategy and Talent Acquisition Partnerships – that enable employers to build motivated, high-performing workforces for long-term success. Dushane is responsible for oversight of all operations, including recruitment efforts, business development, complete P&L, and employee management, and under her leadership, Alaant has placed more than 4,000 top professionals with over 400 companies.
Dushane specializes in recruitment, employee relations, and training and development. She is guided by two central tenets: always do the right thing over turning a profit, and lead by example.
LinkedIn 101 will cover topics including how to create your profile, how to network, and how to conduct a job search.
For inquiries, contact the Office of Alumni Engagement: alumni@excelsior.edu.