Excelsior College Partners with a Non-Profit Agency and Businesses to Offer Energy Employees the Opportunity to Earn a Bachelor's Degree in Nuclear Engineering Technology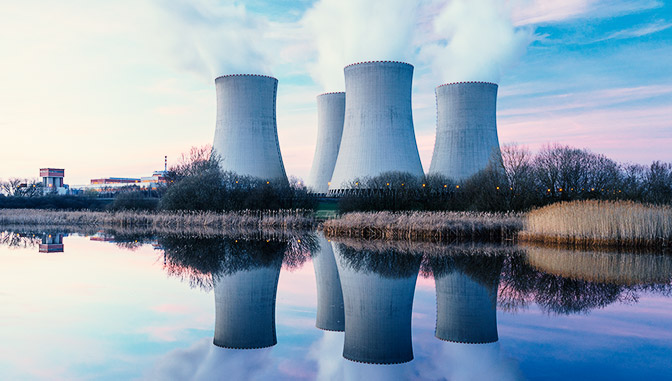 ALBANY, N.Y. (May 2, 2019) – Excelsior College has partnered with the non-profit agency Energy Providers Coalition for Education (EPCE), as well as energy industry businesses and other schools, to offer employees in the energy sector the opportunity to earn a nuclear engineering technology degree.
One company taking advantage of this program is Exelon Corporation, which has strengthened its workforce by joining EPCE and offering employees the opportunity to earn a Bachelor of Science in Nuclear Engineering Technology from Excelsior College. The school has been offering the program through EPCE since 2007.
Since the program's inception with Exelon, 1,772 students have earned their degree through Excelsior College.
The program remains popular as demand grows in the field. The Nuclear Energy Institute estimates nearly 40 percent of the nuclear workforce reached retirement eligibility in 2018. That means opportunities in the field are expected to grow.
"We've offered the nuclear engineering technology degree for years, but there's never been a better time to enter the program," said Lisa Romano, Excelsior College's regional director of government and workforce partnerships. "We're in an interesting time in the nuclear power industry where the older, experienced workers are beginning to retire out of the profession. That's creating a remarkable opportunity for those who earn a degree now."
The program is a collaboration involving a network of education, business, and the nonprofit sector. EPCE works with more than 2,500 companies, connecting them with industry-inspired academic programs for employees. Exelon Corporation, a partner with EPCE, offers an excellent example of how the system works.
Exelon ranks among the largest competitive power generators in the United States. The Exelon family of companies represents every stage of the energy value chain. They include Electric, BGE, ComEd, Delmarva Power, PECO and Pepco subsidiaries. Exelon's six utilities deliver electricity and natural gas to 10 million customers in Delaware, Illinois, Maryland, New Jersey, Pennsylvania and the District of Columbia.
Through EPCE, Exelon offers employees access to enter the Excelsior College nuclear engineering technology degree program. The degree is accredited by the Accreditation Board for Engineering and Technology (ABET), a national non-governmental organization that reviews and accredits programs that meet certain standards and successfully prepare graduates for jobs in engineering and technology fields.
Some of the students from Exelon have earned an associate degree from one of Excelsior College's community college partners. Also, after earning their bachelor's degree, some return to Excelsior College to earn their graduate degree as they rise through the ranks and need leadership and management skills.
Exelon is just one example of how Excelsior College works in collaboration with community colleges, nonprofits and industry. EPCE also promotes other Excelsior College programs with employers, including the Bachelor of Science in Electrical Engineering Technology (ABET accredited), Bachelor of Science in Information Technology (ABET accredited) and Master of Business Administration.
"This program fits well with our values. We are always looking for ways to forge partnerships that help us achieve our goal of providing as many students as possible a chance to improve their lives by earning a college degree," said Lisa LaVigna, Excelsior College's Director of Strategic Partnerships and Alliances.
Press Contact
Alicia Jacobs
Senior Manager, Internal Communications and Public Relations
ajacobs@excelsior.edu
Office: 518.464.8531
Cell: 518.410.4624
ajacobs@excelsior.edu
www.excelsior.edu
About Excelsior College
Excelsior College is a regionally accredited, not-for-profit online college focused on helping adults complete their degrees and advance their careers. The college contributes to the development of a diverse, educated, and career-ready society by valuing lifelong learning with an emphasis on serving individuals historically underrepresented in higher education. Founded in 1971, Excelsior meets students where they are— academically and geographically—removing obstacles to the educational goals of adults pursuing continuing education and degree completion. Our pillars include innovation, flexibility, academic excellence, and integrity.