Military Spouse & Family Members
Prepare For Your Future While Serving Your Country Today
To honor the crucial support military spouses and family members provide to their enlisted loved ones, Excelsior College offers you the pathways, partnerships and personalized support to help you earn your associate, bachelor's or master's degree.
Finish Your Degree Sooner
Excelsior awards credit for previous college-level courses and approved certifications and training through the American Council on Education.
Your Degree On Your Schedule
Earn credit with flexible online courses in 8- and 15-week terms, or earn credits by taking our UExcel® exams after completing supported self-study.
Maximize Your Benefits
Our academic advisors are ready to help navigate VA information on Transfer of Post-9/11 GI Bill to Spouse and Dependents and the My Career Advancement Account (MyCAA) Scholarship Program. .
Pay Less Tuition
Military spouses, domestic partners and dependents receive discounted tuition and are eligible for scholarships opportunities.
A military family member is a spouse or dependent of a military servicemember currently serving on active duty or in the Reserve or National Guard component.
To receive the military tuition benefit, military family members need to submit documentation as outlined below. Submit your documentation by fax at 518-608-8142 or by email at military@excelsior.edu.
Spouses may provide one of the following to confirm eligibility for the military rate:
A copy of the spouse's DEERS Form 1172-2
A copy of the spouse's marriage license and a copy of one of the following forms: servicemember's Proof of Service Statement or Letter, servicemember's most recent reenlistment or commission contract, servicemember's most recent Leave and Earnings Statement, or servicemember's most recent Tuition Assistance Form.
MyCAA Scholarship Recipient – proof of MyCAA Account, approved MyCAA Tuition Assistance Form, or Excelsior College confirmation through Academic Institution (AI) Portal
Dependents may provide one of the following to confirm eligibility for the military rate:
A copy of the individual's DEERS Form 1172-2
Certified copy of completed federal income tax form showing dependency
Take the Next Step –
Speak With a Counselor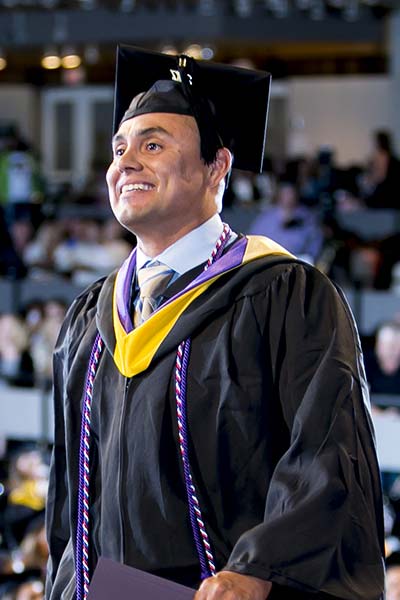 The College of Choice for Those Who Serve
50 Years of Service
to military and veteran students
72,000 military graduates
and counting
100% of military students
turn military experience and training into degree credit
Accredited & Not for Profit
offering 40 career-focused degree programs
The College of Choice for Those Who Serve
50 Years of Service
to military and veteran students
72,000 military graduates
and counting
100% of military students
turn military experience and training into degree credit
Accredited & Not for Profit
offering 40 career-focused degree programs
Connect With Us
Enrolled Military & Family
1.877.542.4133
Enrolled Veterans
1.888.647.2388
Prospective Military & Veterans
1.844.843.9299
| | |
| --- | --- |
| Mon, Wed: | 8:30 AM – 8:00 PM EST |
| Tues, Thurs: | 8:30 AM – 6:00 PM EST |
| Fri: | 8:30 AM – 5:00 PM EST |
Explore Resources Available to Military Family Members
My Career Advancement Account (MyCAA) Scholarship Program. This workforce development program t provides up to $4,000 of tuition assistance to eligible military spouses who are pursuing a license, certification, or associate degree in a portable career field and occupation. More information is available from the program administrator, Military One Source.
VA information on Transfer of Post-9/11 GI Bill to Spouse and Dependents
How To Get Started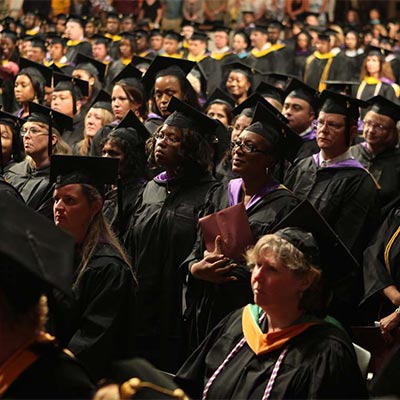 "Excelsior gave me skills in critical analysis, writing, problem solving, and communicating, which all helped me perform my job well."
Lauren Harlow
AS in Liberal Arts, 2017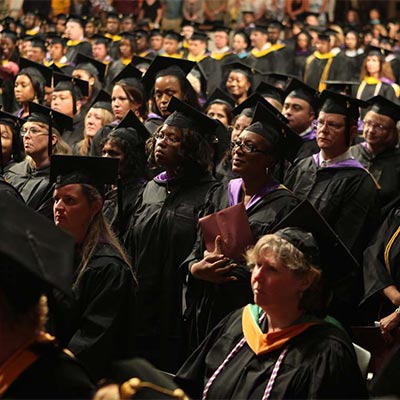 "Excelsior gave me skills in critical analysis, writing, problem solving, and communicating, which all helped me perform my job well."
Lauren Harlow
AS in Liberal Arts, 2017