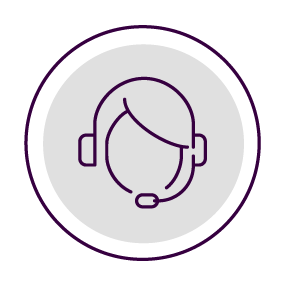 An Admissions Counselor
Can Help You:
Finish your degree sooner | Make college affordable | Create a plan to achieve goals
Fill out our 3-Step form to get started
Expand Your Career and Share Your Knowledge as a Nurse Educator When You Earn a MS in Nursing Education
If you're a Registered Nurse who has a love of teaching, the fully online Master of Science in Nursing Education program prepares you for nurse educator roles in both academic and service settings. You'll gain knowledge and skills you need in learning theories, teaching strategies, curriculum development, evaluation of learning outcomes, and using technology to support teaching.
Online courses, practice experiences, and a robust curriculum prepare you for work in academic settings such as vocational, associate degree, and bachelor degree nursing programs, and in non-academic setting that include staff-development, school nursing, community and public health, nurse recruiter, and clinical settings.
The dynamic and challenging curriculum provides a flexible means for registered nurses to earn a master's degree and preparation for roles as a nurse educator. This program requires outstanding critical thinking skills and nursing judgment as well as commitment to academic rigor.
Fast Facts:
Master's degree holders earn on average $1 million more over a lifetime than those with only a bachelor's degree (Source: Georgetown Center on Education and the Workforce)
---
Master's-prepared nurse educators work at universities, hospitals, and professional schools (Source: BLS)
---
The average median salary for a nurse educator is $77,360 (Source: BLS)
---
Online MS in Nursing Education Program Details
Core Courses: 14 Credits
Transformational Nursing: Innovation, Inquiry, and Scholarship
This course explores how nursing may be transformed. The ways of knowing set a foundation for knowledge acquisition and competencies for master's-prepared nurses. The need for nurses to be innovators, through the application of inquiry and scholarship, are discussed in relation to such topics as leadership, change, and power. Theory-based and scientific competencies are examined as they relate to specializations in nursing. A spirit of inquiry, combined with creativity, curiosity, and the translation of evidence, is explored through critical conversations that support interprofessional collaboration and professional nursing roles in a dynamic healthcare environment.
Theoretical Foundations of Nursing Practice
Theoretical Foundations of Nursing Practice focuses on the exploration of nursing knowledge development to include philosophy, theories, models, and concepts that have been designed to guide nursing practice. It provides approaches to analyze and critique a variety of theories in nursing and related fields.
Research and Evidence-Based Practice
Research and Evidenced-Based Practice focuses on the research process and the analysis and evaluation of research to integrate the best evidence into practice. Emphasis is on the identification of generic and discipline-specific health care issues, synthesis of client care and research initiatives to inform evidence, and translation of research to support and inform practice innovations.
Policy, Ethics, and Population Health
This course examines public policy, political ideology, and ethics as they shape health policy across populations. Political ideology, social and health policy are considered within the lens of population based health and reducing health disparities. The role of the master's-prepared nurse is to lead and advocate within the public policy arena is explored and discussed. Contemporary issues in health policy viewed from the perspective of ethics and the social and material determinants of health are considered. A primary focus of the course is consideration and development of the knowledge and skills that the master's-prepared nurse needs as a change agent in health policy.
The nursing education component consists of six online courses totaling 18 credits.
Advanced Pathophysiology
This course examines the concepts of pathophysiology to guide advanced health care professionals in the diagnosis and management of disease. The focus of this course is to investigate both common and unusual disorders in individuals in primary care settings across the lifespan. In addition to etiology, pathogenesis, and disease evolution the influence of predisposing factors, including environmental, geographic, genetic, developmental, and global factors on disease manifestation will be presented. Students will also examine the impact of disease conditions within the context of a person's life through case study analyses.
Advanced Pharmacology
This course provides an advanced-level pathophysiological approach to understanding pharmacological agents and their use across the lifespan. The mechanism of drug action provides a foundation for understanding applications and adverse effects of these agents. Emphasis will be placed on the fundamentals of pharmacokinetics and pharmacodynamics as they relate to clinical practice. This course includes 9 hours of practice experience.
Advanced Physical Assessment
This course focuses on the advanced comprehensive assessment of individuals. It builds on the students' knowledge and skills and provides a foundation for the advanced practice nurse to evaluate the health of individuals and provide health promotion interventions. The interactions of developmental, biopsychosocial, and socio-cultural contexts resulting in health effects for individuals provide the structure of the course. Students obtain the practice skills necessary for advanced communication (i.e., clinical interviewing, focused history taking), biopsychosocial and physical assessment, critical diagnostic reasoning, differential diagnosis, and clinical decision-making through course readings, dialog, discussions, videos, simulations, and practical examinations. This course includes 45 hours of clinical experience.
Designing a Learning Environment
This course focuses on the creation of teaching-learning environments and the integration of the role of faculty/educator, uniqueness of the learner, the setting and context within which the learning occurs, the teaching-learning strategies used to achieve learning outcomes, and evaluation of the effectiveness of this process.
Program and Curriculum Development in Nursing Education
This course focuses on curriculum and syllabus/program development, including theoretical frameworks and design, philosophical foundations, and selection of learning experiences to achieve outcomes.
Assessment and Evaluation in Nursing Education
This course is designed to introduce the student to the evaluation process, including test construction, clinical performance assessment, program evaluation, and strategies for evaluating learning outcomes.
The Nursing Education Capstone: 6 Credits
This culminating experience provides learners with an opportunity to apply the knowledge and skills they've acquired throughout the program of study, focusing on the competencies of the graduate-level nurse. This course consists of several integrated components: a 135-hour practice experience, discussion, reflective journal, scholarly paper, and project presentation.
Function as a leader and change agent to promote holistic patient-centered care and population health.
Translate evidence to develop health care practices in a culturally and ethnically diverse global society.
Synthesize theoretical and empirical knowledge from nursing and other disciplines that are essential for nursing judgment and practice.
Integrate specialty practice knowledge to enhance interprofessional collaboration, inform decisions, and improve health outcomes.
Exemplify professional values and standards, best practices, and the commitment to lifelong learning in the role of the master's-prepared nurse.
Implement the role of master's-prepared nurse as part of the interprofessional team.
Integrate scholarship, a spirit of inquiry, and innovation to support nursing excellence.
Common Careers with an
Online MS in Nursing Education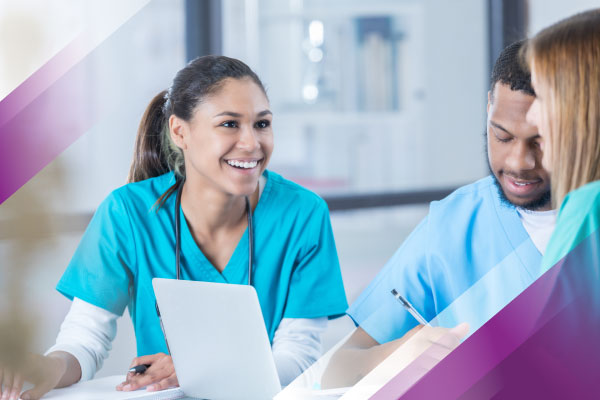 Community and public health nurse
Nurse educators
Nurse recruiter
School nurse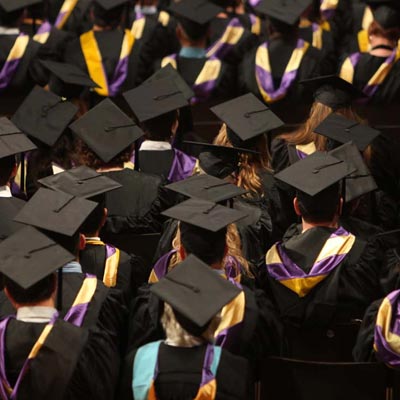 Each time I went back for another degree the information was very relevant to what I was doing, and it was almost as though Excelsior was acting as my mentor/preceptor into the new role that I had stepped into. What I was learning in school, I was applying to day-to-day work and what I was learning in day-to-day work, I was applying in my degree program. You just can't beat that.
Jennifer Gentry
Associate in Science in Nursing, Bachelor of Science in Nursing, Master of Science in Nursing
2004, 2011, 2015
Recognitions & Accreditations