RN to BS in Nursing Online Program
Career Advancement for Registered Nurses
In this fully online Bachelor of Science in Nursing program, you'll build on your prior learning and gain knowledge that will prepare you for graduate study and the pursuit of lifelong learning, which is essential for practice in the nursing profession.
The general education requirements ensure the student develops college-level competence in arts and sciences areas including humanities, social science/history, and natural sciences/math. Credits may be earned through courses, UExcel examinations, or transferred from accredited, degree-granting institutions or approved examination programs. The nursing component focuses on knowledge and professional competencies expected of graduates of bachelor's programs. It emphasizes the integration of nursing and related arts and sciences knowledge in complex situations related to nursing care of individuals, families, aggregates, and communities. The nursing component requires outstanding critical thinking skills and nursing judgment as well as commitment to academic rigor.
Throughout your educational experience, you will have access to guided learning opportunities as well as to academic advisors who will help you with program planning and to nursing faculty who will answer your questions about courses.
Meet the faculty program directors.
Learn about the RN to BS in Nursing admissions requirements.
If you are an associate in nursing graduate looking to pursue your BS in Nursing while you prepare for the NCLEX, get a jumpstart with our Provisional Bachelor's of Science Degree in Nursing program.
Fast Facts:
The average median salary for a registered nurse with a BS is $70,000 (Source: BLS)
---
A typical Bachelor of Science graduate earns $1.19 million over their working lifetime –more than twice as much as a typical high school graduate (Source: The Hamilton Project)
---
Hospitals with a higher percentage of nurses with a BS in Nursing had both a higher standard of patient care and a lower incidence of patient post-surgical mortality (Source: Robert Wood Johnson Foundation)
---
Online BS in Nursing for RN
s

Program Details
Certain nursing certifications have been approved for elective credit. Refer to Nursing catalog for details.
121 credits are required for the Bachelor of Science in Nursing.
Undergraduate general education component:
Cornerstone Course
Information Literacy
Written English Requirement
Humanities:
Social Sciences:
Social Sciences/History
Psychology Core Requirement
Sociology Core Requirement
Natural Sciences/Mathematics:
Human Anatomy and Physiology Core
Microbiology Core
Sciences Supportive of Nursing Core
Statistics Core
Natural Sciences/Mathematics
Arts and Sciences Electives
Nursing Credit for Prior Learning and Successful Completion of NCLEX-RN: 30 Credits
Phase I
The Profession of Nursing: Becoming Influential
This course explores the evolution of contemporary nursing through the development of reflective practice, professional standards, values and beliefs, ways of knowing and nursing knowledge, and inter-professional communication and collaboration. Emphasis is placed on the roles of the bachelor's-prepared professional nurse, the processes guiding nursing practice, lifelong learning, and the influence nursing has in the changing health care environment and world. Through this course, the student develops a personalized toolbox with an array of skills necessary to become an influential professional nurse.
Introduction to Informatics for Nurses
This course provides knowledge about the roles and skills in information management and the application of technology to inform nursing practice. Emphasis is placed on technological supports for patient care interventions and the use of decision-support systems to gather evidence to guide practice. The use and understanding of standardized terminologies and the role of information technology in improving patient outcomes and creating a safe environment will be included.
Holistic Health Care Across the Life Span
This course focuses on applying concepts of health promotion, as well as illness, disease, and injury prevention to health assessment across the life span. The student integrates the core concepts (critical thinking, communication, research, role development, caring, and cultural competence) into a holistic approach while functioning in the professional nursing role. Health and physical assessment data are gathered, analyzed, and synthesized by the student to develop a personal health plan for a client that promotes health and prevents disease.
Leadership and Management in Nursing
This course analyzes the interrelated relationship between leadership and decision making, and examines how wisdom, research, personal values, and theory enhance leadership and decision-making skills.
Phase II
Research in Nursing
This course focuses on knowledge and skill acquisition related to research process. Evidence-based practice, critical thinking, critical reading, and the baccalaureate nurse's role in the application of research to practice are emphasized. Course content examines the foundations of research, the research process, quantitative and qualitative research designs, as well as evaluation of a quantitative research study.
Teaching and Learning in a Diverse Society
This course focuses on the role of the nurse as educator and the ability to teach a group of adult clients with a shared learning need. Theory and research-based evidence from nursing and other disciplines are integrated with concepts of caring and cultural competence, health promotion, behavioral change, and principles of teaching and learning. Application of the education process is emphasized. In partnership with clients, the student develops, implements, and evaluates a teaching plan designed to produce a desired change in behavior.
Community Health Nursing: Caring for the Public's Health
This course integrates evidence, theory, standards, and knowledge from nursing, public health, and other disciplines to guide population-focused nursing practice. Importance is placed on the application of the core functions of public health: assessment, policy development, and the assurance of available and necessary health services for diverse populations. Emphasis is placed in identifying determinants of health, advocating for vulnerable populations, prioritizing primary prevention, and utilizing available resources to improve the health of populations. Population-focused nursing involves assessing the health care needs of a specific population and making health care decisions for the population as a whole rather than for individuals. This course includes practice experiences in the community.
Nursing Elective (upper level)
The 3-credit elective requirement could be met with a nursing certification (see catalog). Students should consult with your academic advisor before taking a course or examination for nursing elective credit. Graduates of Excelsior University's associate degree nursing program waive this requirement.
Phase III
Nursing Capstone
This capstone course focuses on integration and synthesis of knowledge, skills, and competencies from nursing, other disciplines, and the arts and sciences. Application of specific concepts and theories, such as communication, critical thinking, and leadership, enables students to transform theory to practice within health care systems. This course includes practice experiences.
Promote holistic patient-centered care and population health supporting values, culture, right to self-fulfillment, and quality care outcomes.
Integrate evidence, nursing theory, and knowledge from other disciplines to guide nursing practice.
Formulate decisions based on nursing judgment and collaboration with the interprofessional team to achieve quality patient outcomes.
Incorporate professional core values, guidelines, standards of practice, and lifelong learning as a basis for professional nursing practice.
Apply principles of leadership to advocate for the unique role of the nursing profession within the health care system.
Engage in the spirit of inquiry to propose solutions that support nursing excellence.
Common Careers with an
Online BS in Nursing for RN
s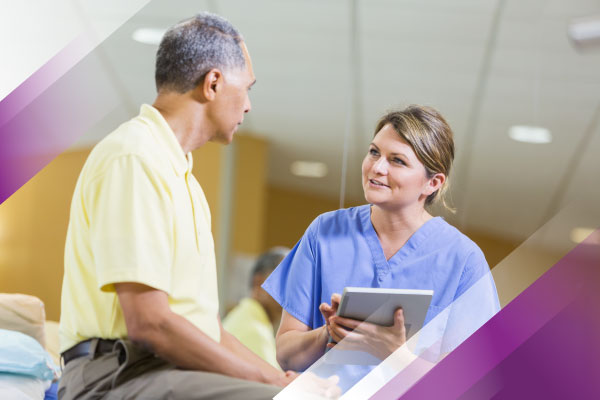 Case Manager
Nurse Entrepreneur
Nurse Manager
Public Health Nurse
Research Nurse
School Nurse
Quality Assurance Specialist
Recognitions & Accreditations