What You Need to Know About New York State BSN in 10 Law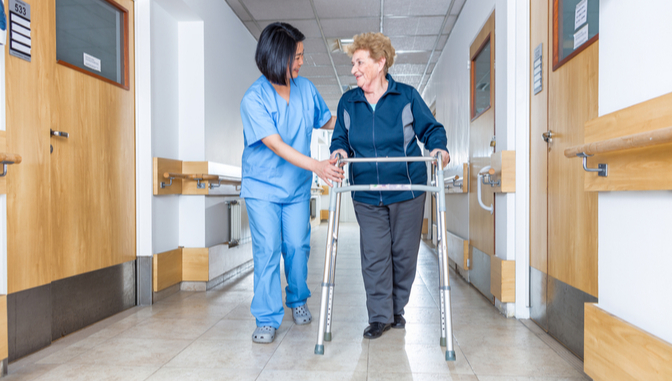 In 2017, New York became the first state to mandate that registered nurses earn a bachelor's degree in nursing. Called the BSN in 10 law, it requires nurses to earn a Bachelor of Science in Nursing within 10 years after first getting their RN license.
Signed into law on Dec. 19, 2017, BSN in 10 addressed findings in research that shows patient outcomes are improved with higher levels of education for bedside nurses. It's led to many nurses to enter RN to BS in Nursing programs and earn their bachelor's degree.
The requirement goes into effect in June 2019, 18 months after the bill was signed into law. The law grandfathers in those who already have a New York state nursing license or who had entered a degree program at the time the bill became law.
However, it will impact thousands of new nurses. To offer some idea of the numbers, the state of New York issued between about 14,000 and 18,000 RN licenses every year between 2014 and 2018.
Why Did New York Pass the BSN in 10 Law?
State lawmakers' decision to mandate a BS in Nursing for all new nurses is in line with a position held by many organizations in the nursing field for years. For example, a committee for the American Nurses Association first proposed the idea that nurses earn a baccalaureate degree in 1965.
Also, in a position paper in 2019, the American Association of Colleges of Nursing (AACN) reiterated a long-held position that the organization "strongly believes that registered nurses should be, at minimum, prepared with the Bachelor of Science in Nursing or equivalent baccalaureate nursing degree offered at an accredited four-year college or university."
The AACN noted research that shows lower mortality rates, fewer medication errors, and more positive patient outcomes at medical facilities with nurses "prepared at the baccalaureate and higher degree levels."
Those findings match what was found in a 2003 study led by researchers at the University of Pennsylvania. It was this study that set New York lawmakers on the path to creating the BSN in 10 law. The study found that in hospitals with a higher percentage of nurses with a Bachelor of Science in Nursing or Master of Science in Nursing, surgical patients experienced lower mortality and failure-to-rescue rates.
How the BSN in 10 Impacts New York Nurses
It's important to note that the new law does not phase out other degrees. There remain two pathways for a nurse in New York to become eligible to take the RN licensing exam. They are:
A two-year Associate Degree in Nursing
A four-year Bachelor of Science in Nursing
The change is that those who become RNs through these pathways must now earn a BS in Nursing within 10 years.
The law also creates the nursing program evaluation commission, which is tasked with identifying barriers that block students from earning a BS in Nursing. Those include:
Cultural barriers
Economic barriers
Compliance barriers
Financial barriers
Access for non-traditional students, rural students, and students of diverse cultural backgrounds
That last area is one of interest to administrators at Excelsior College. A large part of the school's mission is to provide educational opportunities to diverse and non-traditional students in often underserved communities.
Excelsior College Nursing Programs
Excelsior College offers four online nursing degree programs, all of which would allow those who earn the degree to meet the BS in Nursing requirements for RN in New York. All Excelsior College nursing programs are accredited by the Accreditation Commission for Education in Nursing (ACEN).
They are:
BS in Nursing for RNs. This RN to BS in Nursing program allows those with their RN license to earn a bachelor's degree in nursing sooner than they might expect due to a generous credit transfer policy that gives students credit for already learning important skills.
RN to MS in Nursing Leadership and Administration of Health Care Systems. This program is one of three dual degree bachelor's to master's programs. This one focuses on preparing graduate nurses for leadership positions.
RN to MS in Nursing Education. This dual degree program prepares graduates to become nursing educators in academic and health care settings.
RN to MS in Nursing Informatics. This dual degree program prepares graduates to take leadership positions in the emerging field of data-driven healthcare.
Advantages of Excelsior Programs
Excelsior College focuses on nursing education that emphasizes a holistic approach to patient care. That includes an understanding of how disease affects the entire body and how health outcomes are interconnected with life circumstances.
The college also partners with a variety of organizations in offering its online degree programs to reach non-traditional students who might otherwise not enter a BS in Nursing program.
Those partnerships include nurses' associations, hospitals, and community colleges. Members, employees, and students with such organizations benefit by receiving tuition assistance, fee reduction, and generous credit-transfer policies.
Earning a bachelor's degree will allow nurses in New York to meet the mandate of the BSN in 10 law. Online courses from quality institutions also allow nurses to earn their BS in Nursing or MS in Nursing more conveniently than ever.