Q & A with Amanda Reiman, Vice President of Community Development for Flow Cannabis Company and Advisor for the Graduate Certificate in Cannabis Control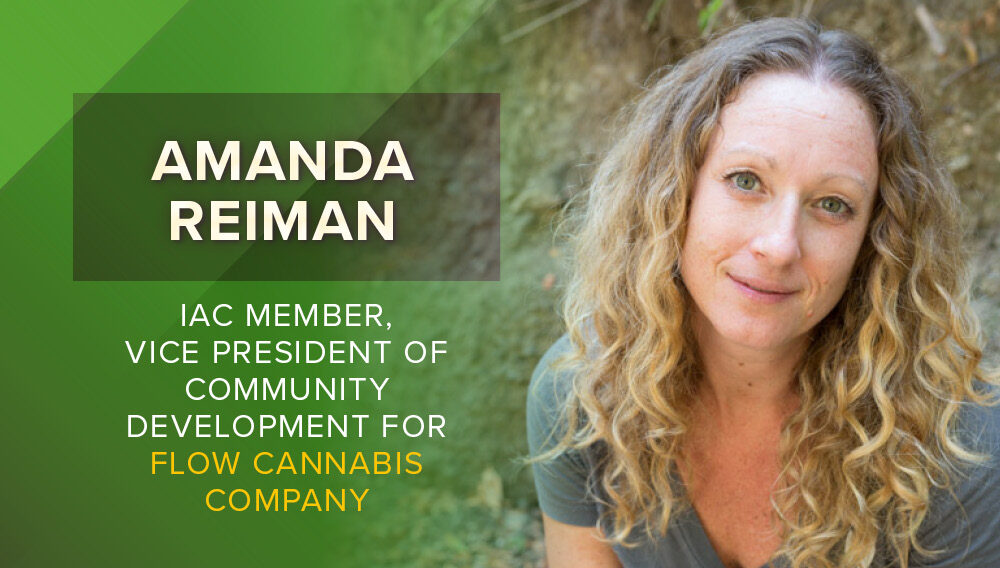 Our next blog post that spotlights members of the Graduate Certificate in Cannabis Control's Industrial Advisory Committee is about Amanda Reiman, vice president of community development for Flow Cannabis Company, which engages in distribution, manufacturing, and white label production of sun-grown cannabis products. Look for some of her upcoming articles in these publications: https://www.forbes.com/sites/warrenbobrow/2020/06/03/dr-amanda-reiman-digs-deeply-into-5-questions-about-the-endocannabinoid-system/#28538c3429e9; https://tokeativity.com/connect/calendar/event/435-haus-of-jane-women-in-plant-medicine-summit/
Read on to learn more about her!
About Amanda Reiman
Amanda Reiman is the vice president of community development for Flow Cannabis Company. She is also the founder and CEO of Personal Plants, an online platform that supports the home cultivation and processing of therapeutic plants and fungi. Reiman is a board member for the California Cannabis Tourism Association, the Mendocino Cannabis Alliance, the Mendocino County Fire Safe Council, and The Initiative, the first incubator/accelerator for women-owned cannabis businesses.
After earning a PhD from UC Berkeley, Reiman became the director of research and patient services at Berkeley Patients Group, one of the oldest dispensaries in the United States, and the manager of marijuana law and policy for the Drug Policy Alliance, a national nonprofit organization that was engaged in the drafting and campaigns of legalization initiatives across the country and abroad. She also taught courses on substance abuse treatment and drug policy at UC Berkeley for 10 years and has published several research articles and book chapters on the use of cannabis as a substitute for opiates and the social history of the cannabis movement.
Q&A with Amanda Reiman
Q: In your own words, how do you think the Graduate Certificate in Cannabis Control will benefit students?
A: The legal cannabis industry provides a variety of job opportunities across sectors. Providing evidence-informed education is key to preparing students for the opportunities that await them in this growing industry.
Q: What do you hope students will take away from the program?
A: That the cannabis industry is not that different than other alternative medicine/plant medicine industries and that there is an opportunity for well-paying, long-term employment in an exciting environment.
Q: Please tell us how you started in the industry.
A: I am a social worker and public health researcher who began studying the relationship between patients and dispensaries in 2002. Since then I have studied the use of cannabis as a substitute for alcohol and other drugs and how cannabis fits into the broader community.
Q: What's something unique about you that others would find interesting?
A: I used to be a professional dog walker.
Q: What is a piece of advice you'd offer someone getting into the industry?
A: Liking cannabis is not enough. The jobs in the industry today require skills outside of knowledge of the plant and its uses.
Q: What is one thing you wish you had known before entering the industry?
A: Well, when I started it was not an industry, but a movement. It grew up as an industry while I was already in it.
Q: Do you have anything else you would like to mention regarding your work in the cannabis industry?
A: One of my roles in the industry has been to preserve the culture and activism that was front and center prior to legalization.