Excelsior College Awards Congressman Tonko an Honorary Degree
On September 3, James N. Baldwin, president of Excelsior College, awarded an honorary degree to Rep. Paul D. Tonko, a sixth-term member of the U.S. House of Representatives, representing New York's 20th Congressional District in the Capital Region.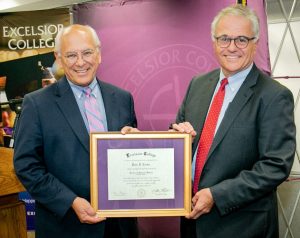 In presenting the honorary degree, President Baldwin said, "Throughout his career, Congressman Tonko has been a champion for the working class and advancing policies that create jobs. He has been a champion for the underserved and underprivileged." Baldwin also heralded Tonko as a true advocate for education and for adult learners and remarked that he has advanced the mission of Excelsior College to create pathways for the undeserved to achieve their educational dreams.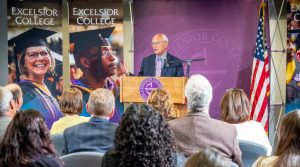 Tonko had planned to attend Excelsior College's 48th Commencement on July 12 and receive the honorary degree, but he was needed in Washington, DC for a critical vote on the 911 Victim's Compensation Fund.
To the Excelsior College administrators and staff gathered on September 3, he echoed the remarks he provided to graduates via a video at Commencement, in which he indicated the importance of a sense of purpose. "My message to you today is about purpose," he said. "Purpose is a great guiding force in our lives. Without purpose, where are we heading?"
He continued, "Be strong. Be generous with yourself and be Excelsior. Be that high quality, that best quality. Looking upward and forward always to reach inside and really show your given sense of purpose.''
Tonko has worked with Excelsior College on many initiatives and events, such as the Nyquist Leadership Series and Workforce Development Strategy and Policy Forum, and has supported a grant for Excelsior College to develop the Diagnostic Assessment and Achievement of College Skills (DAACS). In 2014, Tonko helped Excelsior College with a grant establishing new and creative uses of technology to increase college opportunities for low-income students. In response to the recognition by Excelsior College, Tonko said, "To receive an honorary degree from Excelsior College is just a wonderful feeling."
Tonko graduated from Clarkson University with a degree in mechanical and industrial engineering and is a former engineer for the New York State Public Service Commission. He is a lifelong resident of Amsterdam, New York.