Dr. Karen Cox to Address Excelsior College Commencement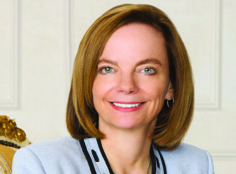 Karen Cox, RN, PhD, FACHE, FAAN, an Excelsior College graduate and renowned leader in the health care and nursing fields will address graduates at Excelsior College's 46th Commencement on July 14, 2017. The College will also present Dr. Cox with an honorary degree during the ceremony, which will once again be held at the Empire State Plaza in downtown Albany, New York.
"Dr. Cox has made Excelsior College proud, distinguishing herself as influential voice in the health care field and a fearless and passionate advocate for nurses everywhere," said Dr. James Baldwin, president, Excelsior College. "She'll bring a unique perspective to solving many of the great challenges facing contemporary society and we're honored to have her."
Dr. Karen Cox currently serves as executive vice president and chief operating officer of Children's Mercy – Kansas City, an independent, academic medical center in Missouri. She started her healthcare career as a licensed practical nurse, before earning an associate degree in nursing from Excelsior College, a Bachelor of Science in Nursing from the University of Kansas, and a Master of Science in Nursing and PhD from the University of Missouri–Kansas City.
In 2015, Dr. Cox was named the inaugural endowed chair for the V. Fred Burry, MD, and Sandra Hobart Burry Chair in Nursing Advocacy and Leadership, to recognize her local and national advocacy and leadership work ensuring resources for its continuation.
Dr. Cox was elected to a four-year term as president elect and president (2015-2019) of the American Academy of Nursing, the premier organization for the profession of nursing. Previously, she was elected to the American Hospital Association, Section on Maternal and Child Health Governing Council, and appointed to the Children's Hospital Association, Child Health Committee.
Dr. Cox was named a fellow in the Robert Wood Johnson Executive Nurse Fellowship Program. She is also a fellow in the American College of Health Care Executives. She was appointed to a term on the National Advisory Council on Nurse Education and Practice, U.S. Health and Human Services.
Dr. Cox has contributed articles to publications including Modern Healthcare, American Journal of Nursing, Nursing Economics, Seminars for Nurse Managers, Journal of Nursing Administration, Nursing Leadership Forum, Nursing Administration Quarterly and Journal of Public Health Nursing.
Excelsior College's Commencement annually draws hundreds of graduates, friends, and family from around the country and from abroad. For many, the ceremony marks the first time students will have face-to-face contact with classmates, advisors, and instructors.
-30-
Excelsior College (excelsior.edu) is a regionally accredited, nonprofit online college focused on helping adults complete their degrees and advance their careers. The College contributes to the development of a diverse, educated, and career-ready society by valuing lifelong learning with an emphasis on serving individuals historically underrepresented in higher education. Founded in 1971, Excelsior meets students where they are – academically and geographically –  removing obstacles to the educational goals of adults pursuing continuing education and degree completion. Our pillars include innovation, flexibility, academic excellence, and integrity. Learn more at excelsior.edu.