Excelsior College Concludes Monthlong Tribute to Veterans
Albany, New York—Excelsior College concludes its monthlong tribute to veterans this week. From relaunching the Lt. Col. Bryant A. Murray Veterans Center to marching in the New York City Veterans Day Parade and from a donation drive for Stratton Veterans Affairs (VA) Medical Center in Albany to a fundraising campaign for veteran scholarships, Excelsior celebrated and supported veterans throughout November.
Named a "Best for Vets" school 11 times and with over 72,000 veteran alumni, Excelsior College has a strong military and veteran student population and community. Veterans and military students represent 51 percent of Excelsior's student population.
"We are committed to serving the veterans in our Excelsior community and supporting all U.S. veterans," said Jim Lettko, chief operating officer of Excelsior College and retired U.S. Army brigadier general. "We coordinate our support of veterans with our students in mind first and then look for ways to support veterans within the entire Excelsior community and the public."
Cold-weather clothing items collected by the Excelsior staff community were donated to the Stratton VA Medical Center for veterans experiencing homelessness or on the brink of homelessness. Alumni supported veteran students by donating to scholarships all month through a Stamp the Map campaign. As alumni are represented in all 50 states, the Stamp the Map participation campaign tracked donations from each state and will end on Giving Tuesday, November 30.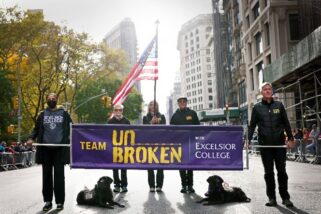 On Veterans Day, alumni and staff participated in the New York City Veterans Day Parade with Team Unbroken, an adaptive adventure racing team composed of combat-wounded veterans as well as civilians with life-altering injuries or illness.
Military service dog Rusty gives support to Excelsior trustee Gretchen Evans during the NYC Veterans Day Parade.
# # #
Media Contact Excelsior College:
Erin Coufal, ecoufal@excelsior.edu, 518-608-8498
ABOUT EXCELSIOR COLLEGE
Excelsior College is an accredited, not-for-profit online college focused on helping adults complete their degrees and advance their careers. The college contributes to the development of a diverse, educated, and career-ready society by valuing lifelong learning with an emphasis on serving individuals historically underrepresented in higher education. Founded in 1971, Excelsior meets students where they are — academically and geographically — removing obstacles to the educational goals of adults pursuing continuing education and degree completion. Our pillars include innovation, flexibility, academic excellence, and integrity.