Excelsior College Doubles 50th Anniversary Campaign Goal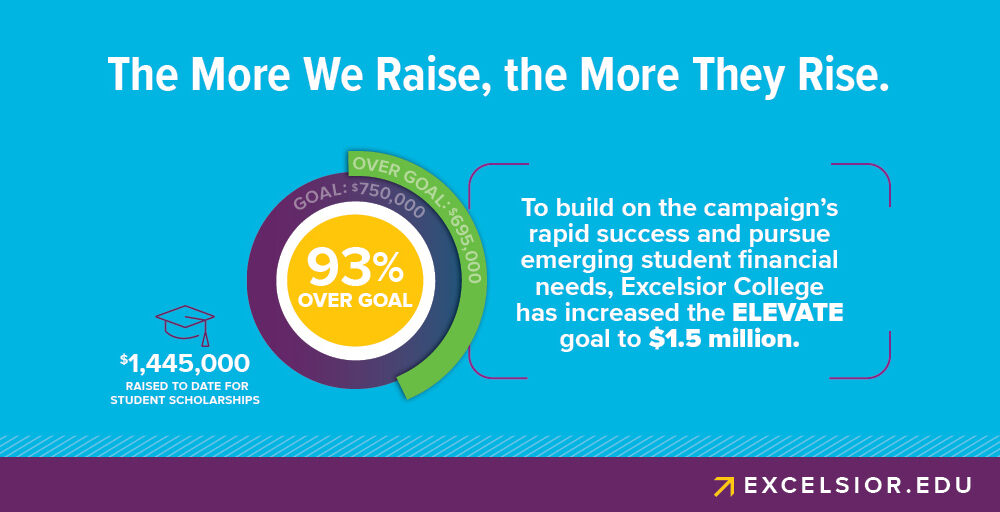 Albany, New York — Excelsior College is proud to announce that the original 50th anniversary campaign goal of $750,000 was surpassed. To build on the Elevate campaign's rapid success and pursue emerging student financial needs, Excelsior has increased the campaign goal to $1.5 million. Due to donor generosity, $55,000 is needed to reach the new goal.
Excelsior's commitment to student scholarships remains steadfast. All donations to the campaign will continue to go directly to student scholarships. Donations received now through June 30, 2022, will be earmarked for students who are within 12 credits of completing their degree to help students close to degree completion fulfill their academic goal.
"We are humbled by the outpouring of support shown by the Excelsior community, whose giving has far surpassed our expectations," said Jamie Hicks-Furgang, executive director of development and alumni engagement. "The diversification of giving among our community, including generous planned gifts, has been exciting. These donations will be transformational for the College and will allow us to begin to lay a foundation for future initiatives."
In addition to donations from alumni, staff, faculty, and members of the board of trustees, Excelsior is thankful for gifts from the Carl E. Touhey Foundation, the Massry Charitable Foundation, the Wright Family Foundation, Business for Good Foundation, SEFCU, KeyBank, and Empire Blue Cross that make an immediate and lasting difference.
# # #
Media Contact Excelsior College:
Erin Coufal, ecoufal@excelsior.edu, 518-608-8498
ABOUT EXCELSIOR COLLEGE
Excelsior College is an accredited, not-for-profit online college focused on helping adults complete their degrees and advance their careers. The college contributes to the development of a diverse, educated, and career-ready society by valuing lifelong learning with an emphasis on serving individuals historically underrepresented in higher education. Founded in 1971, Excelsior meets students where they are — academically and geographically — removing obstacles to the educational goals of adults pursuing continuing education and degree completion. Our pillars include innovation, flexibility, academic excellence, and integrity.