Excelsior College Named a Top 10 Online College by Newsweek
Albany, New York—Newsweek announced that Excelsior College placed No. 9 on its 2022 list of America's Top Online Colleges. The America's Top Online Colleges 2022 list ranks 150 colleges and universities that offer online degree programs, including hybrid programs.
"Excelsior is thrilled to be ranked a Top 10 Online College by Newsweek," said David Schejbal, president of Excelsior College. "We take great pride in being the largest, fully online higher education institution in New York state and to be recognized nationally by Newsweek as an online leader reinforces Excelsior's strong reputation."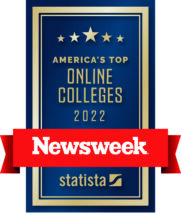 On behalf of Newsweek, Statista surveyed more than 9,000 individuals who participated in online college degree programs and/or online learning courses in the United States. Respondents shared their experiences by rating the institutions on accessibility, support service, program cost, reputation, expected success, practical relevance of programs, and overall satisfaction with the institution. The rankings are based on the online survey results.
Founded in 1971, Excelsior began to offer courses online in 2004 and set the bar for academically rigorous and engaging education at a distance. Overall, Excelsior College's success can be attributed to an unyielding resolve to meet students where they are, academically and geographically. With more than 187,000 alumni, Excelsior alumni can be found in all 50 states and more than 20 countries. Excelsior offers online associate, bachelor's, and master's programs as well as certificates.
# # #
Media Contact Excelsior College:
Erin Coufal, ecoufal@excelsior.edu, 518-608-8498
 ABOUT EXCELSIOR COLLEGE
Excelsior College is an accredited, not-for-profit online college focused on helping adults complete their degrees and advance their careers. The college contributes to the development of a diverse, educated, and career-ready society by valuing lifelong learning with an emphasis on serving individuals historically underrepresented in higher education. Founded in 1971, Excelsior meets students where they are — academically and geographically — removing obstacles to the educational goals of adults pursuing continuing education and degree completion. Our pillars include innovation, flexibility, academic excellence, and integrity.