Excelsior College Thanks Health Care Workers
Albany, NY — In honor of National Nurses Month in May and National Nurses Week, traditionally celebrated from May 6–12, Excelsior College and Pizza Hut are teaming up to deliver lunch and dinner to six Capital Region hospitals from April 24–May 7, as a token of appreciation for all local health care workers.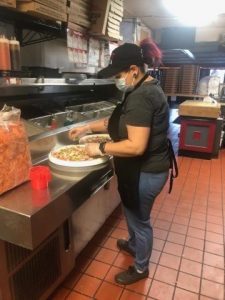 The Excelsior College community is tremendously grateful to the health care community during these unprecedented times and thanks every health care worker every day, in every way, for their important work.
"We are proud to team up with Excelsior College on this initiative and are looking forward to delivering for our healthcare workers who have been tirelessly serving others during this challenging time," said Cristi Lockett, chief people officer, Pizza Hut US. "Partnering with Excelsior to benefit Pizza Hut team members' educational and career goals has made an impact on their lives, and we wanted to come together now to thank frontline professionals who are impacting lives throughout the Capital Region." Pizza Hut has had an exclusive educational partnership with Excelsior College since 2016 when Life Unboxed was launched.
This partnership offers Pizza Hut team members and their families the opportunity to continue their education at a discounted rate and to receive up to 60 college credits for Learning Zone training completed at Pizza Hut.
Excelsior College takes pride in helping to educate the workforce to meet today's societal needs, including in the field of health care.
"Excelsior College has been educating future nurse leaders for nearly 50 years. We offer online, fully accredited degree programs designed for working nurses, at the bachelor's and master's levels," says James N. Baldwin, president of Excelsior College. "There are more than 54,000 Excelsior-educated nurses, many of whom are on the front lines combatting COVID-19. We are proud of you. We appreciate you. We thank you."
While an in-person thank you was not possible at this time, Excelsior College and Pizza Hut hope health care workers can take time to rest, refuel, and know the community is thinking of them.
The locations and dates of deliveries are listed below*.
Ellis Hospital
April 27 lunch at noon
May 1 dinner at 7:00pm
Albany Medical Center
April 28 lunch at 11:00am
May 6 dinner at 4pm
St. Peter's Hospital
April 24 lunch at noon
May 7 dinner at 7:00pm
Samaritan Hospital
April 24 lunch at noon
May 8 dinner at 7:00pm
Glens Falls Hospital
April 24 lunch at noon
April 29 dinner at 4:00pm
Saratoga Hospital
April 25 lunch at noon
May 2 dinner at 6:00pm
*Members of the media who are looking to gain photos or videos for this story, can reach out Alicia Jacobs for coordination of deliveries and opportunities outside of the hospital.
###
About Excelsior College
Excelsior College (excelsior.edu) is a regionally accredited, not-for-profit online college focused on helping adults complete their degrees and advance their careers. The college contributes to the development of a diverse, educated, and career-ready society by valuing lifelong learning with an emphasis on serving individuals historically underrepresented in higher education. Founded in 1971, Excelsior meets students where they are — academically and geographically — removing obstacles to the educational goals of adults pursuing continuing education and degree completion. Our pillars include innovation, flexibility, academic excellence, and integrity. Learn more at excelsior.edu.
Media Contact: Alicia Jacobs
Email: ajacobs@excelsior.edu
Phone: (518) 410-4624