Excelsior College's 50th Anniversary Commencement to Be Held on July 9
Albany, NY — Excelsior College celebrates its 50th anniversary Commencement remotely on July 9 at 3 pm ET. The online format is inclusive, as all graduates will have the opportunity to participate without travel concerns related to health, finances, or schedule.
The Commencement celebration will include speakers, tributes from alumni, and awards. To accommodate time zones and the schedules of Excelsior's working adult students, a link will remain on the webpage for all to enjoy the Commencement at their convenience. All attendees can post messages to the webpage message board, and graduates can also engage with their peers on social media by sharing photos and stories of their Excelsior celebrations from around the world.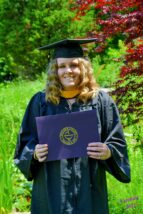 The nearly 6,000 graduates in Excelsior's Class of 2021 come from more than 20 nations. The highest number of graduates is from the United States, then Canada, and followed by other nations, included among them Belgium, Ecuador, England, France, Germany, Gibraltar, Hong Kong, Ireland, and Israel. The oldest graduate is 74 years young. Over 40 percent of this graduating class are military or veteran students.
"In Excelsior's 50-year history, success has been measured by student success," said David Schejbal, president of Excelsior College. "This graduating class demonstrated the grit and determination that Excelsior students are known for by persevering through the pandemic to achieve their degrees. Congratulations to our students from around the country and the world for reaching this impressive milestone."
All graduates are invited to participate in this year's remote celebration, and as always, graduates will also have the option to walk in a future Commencement ceremony. Current students, faculty, staff, and alumni are invited to watch the Commencement event.
###
Media Contact Excelsior College:
Erin Coufal, ecoufal@excelsior.edu, 518-608-8498
 ABOUT EXCELSIOR COLLEGE
Excelsior College (excelsior.edu) is an accredited, not-for-profit online college focused on helping adults complete their degrees and advance their careers. The college contributes to the development of a diverse, educated, and career-ready society by valuing lifelong learning with an emphasis on serving individuals historically underrepresented in higher education. Founded in 1971, Excelsior meets students where they are — academically and geographically — removing obstacles to the educational goals of adults pursuing continuing education and degree completion. Our pillars include innovation, flexibility, academic excellence, and integrity. Learn more at excelsior.edu.