All Roads Lead Here
Anthony Spearman-Leach's extensive and varied career prepared him for his current position at the National Academy of Public Administration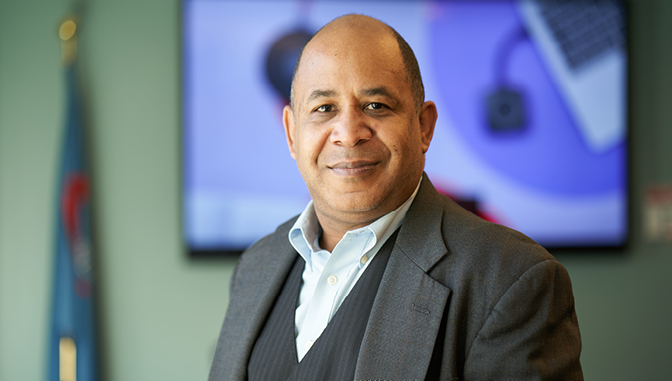 "My story is probably a little different from a lot of people," says Anthony "Tony" Spearman-Leach of Maryland. Like other students, the 1992 Bachelor of Science graduate came to Excelsior College with his own unique tale of what brought him to pursue higher education. Spearman-Leach's story involves how his dedication to serving others has weaved in and out of his past careers in science, government, media, television, the humanities, and eventually to his current position as director of business development and philanthropy at the National Academy of Public Administration.
In the early 1990s, while Spearman-Leach was looking into furthering his higher education, he came across John Bear's "Guide to Non-Traditional College Degrees." At that time, he was working in politics and public policy and serving as Michigan Gov. John Engler's appointee on the Michigan Board of Physical Therapy. Later, Tony served as Detroit Mayor Dennis Archer's appointee as the Chair of the Downtown Detroit Citizen's District Council which focused on the vitality and economic development of downtown Detroit.
Spearman-Leach had undergraduate credits from Cornell University, Rensselaer Polytechnic Institute, and Michigan State University. When he came across Excelsior College [then Regent's College], he was ecstatic. "I was like, hallelujah, there's a place that actually puts all this stuff legally in one place. I love you! Excelsior College also allowed me to more clearly define a traditional way of understanding my major…I was like, oh my god, I love you again," he says, recalling how seamless it was to compile his credits into a Bachelor of Science, which he earned in 1992. The only requirement Spearman-Leach had to complete for his degree was in technology, so he took a CLEP exam at a community college in Livonia, Michigan, near his home at the time. "What really drew me to Excelsior was its innovation, its flexibility," he says. Spearman-Leach also received a bachelor's degree from Johns Hopkins University, in 1995.
After earning his degree from Excelsior, Spearman-Leach became the regional director for U.S. Sen. Spencer Abraham, a position he really liked and that built on his previous work in politics. "I had the great joy of having the special experience of being educated as a scientist but working in the public interest as a public servant, for both the state and for the city and for the federal government," he says.
By 2000, Spearman-Leach was ready for another change. "I want to do something different. I want to try a new world," he recalls thinking. After meeting a human resources assistant, he was convinced to start working in broadcast media for the marketing challenge. He soon became a national sales assistant for the USA Network and the Sci-Fi Channel. He moved his way to CBS Television's WWJ and WKBD stations and worked there during the merger between CBS and Paramount and Viacom. He then had the fortune of working for Mandalay Bay Resort Group's MotorCity Casino as a marketing manager, a position in which he helped the company grow its multimillion-dollar budget. Following that position, he became the chief of communications and development for the Charles H. Wright Museum of African American History and Culture, which he found a rewarding experience. "Working in a museum really gave me great pride because it allowed me to contribute back to the community, through education and through a cultural and historical resource."
Now Spearman-Leach works on Washington, D.C.'s K Street, right up the block from the White House, as the director of business development and philanthropy for the National Academy of Public Administration. The Academy produces independent research and studies to support public administration and the development, adoption, and implementation of solutions to significant challenges faced by all three levels of government. Spearman-Leach specifically works with the director of Academy Studies in contract procurement and management to make sure studies there are a continual stream of opportunities for the Academy. He is also responsible for securing philanthropic funding from corporate partners and major gift donors.
Throughout his career, the one thing that remains similar through his various jobs is the idea of connecting to and helping the public. "Serving others has been a hallmark of everything that I have done," he says, and explains that it is rooted in his family history. His great-grandfather was the first African American elected post-reconstruction in North Carolina to a civic role; his cousin was one of the first African Americans on the founding city council for Washington, D.C.; his mother is a retired librarian, and his grandmother and great-grandmother were both teachers. Serving others is a tradition that he is proud to carry on, saying "…if you have a little more than your neighbor, try to help your neighbor…."
More from Tony Spearman-Leach
What advice would you give to somebody who wanted to start a new career or go back to school and had no idea what to do?
If you're looking to continue your education, and you need it to be done in a flexible, innovative way at your own pace and at your own comfort level style, you cannot do better than Excelsior College! They will walk with you along your journey whether your journey is short or long, and they will encourage you each step of the way…The next thing I would say is do your homework, learn about that profession that you want to go into or that you want to start up or change to, and see what are the prevailing trends. Find out what professional associations you should join, to network in, and get active.
What is the secret to your success?
Commitment to constantly trying. It is important that you remain persistent. It is important that you are always ever determined. Never give up on yourself. And know that failure is not an ending. One of the best phrases I ever heard was from a veteran of the Afghanistan War, a U.S. veteran who was a double amputee; he had lost his legs to a mine exploding. And he had to learn to walk on a prosthesis. And he described falling as he learned to walk on his new prosthetic legs. And he talked about falling the first time and how the doctor and the nurses applauded. And the doctor looked at him and said, it's important that you learn to "fail forward" …so many of us get caught up in the encouragement and the cheering that comes from celebrating successes that we forget we learned the most from our failures. We grow the most from our failures because our failures teach us to "fail forward."
What drives you?
What drives me is persistence, determination, giving back to others, helping them fail forward, helping them reach success, and in doing what we all should be doing: giving a hand up…I believe in the fundamental goodness of people. I do believe that we have the capacity for infinite and amazing goodness.
Are you part of any organizations?
I am the Supervisory Committee Chair and sit on the Board of Directors for the Mid-Atlantic Federal Credit Union, and I serve as the Chair for the advisory board of the Josiah Henson Museum and Park…I also sit on the board of directors as the Vice Chair for Story Tapestries, an organization that uses art as a means for supplementing educational resources, especially STEM education…And I serve as the chair of the Programs and Marketing Committee for the Friends of the Library of Montgomery County…I serve on the Board of the Society for Nonprofits, which serves over 4,000 nonprofit organizations across the United States, and helps them increase their capacity and fundraising, nonprofit management, and nonprofit administration.