All for Family
A Scholarship Propels Aaron Starkey to Continue to Pursue a Degree in Nursing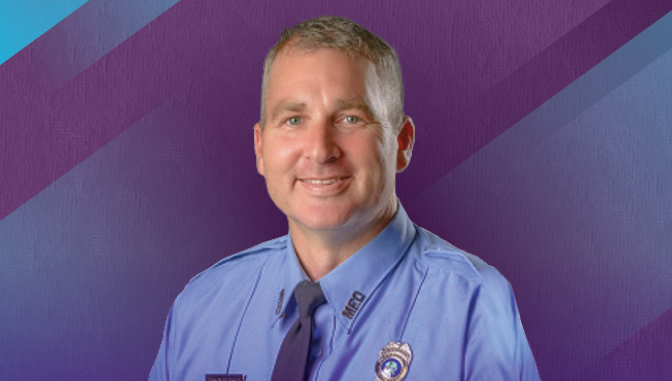 For 17 years, Aaron Starkey of Melbourne, Florida, worked as a firefighter paramedic, among other things, and has been working to become a nurse off and on for many years. Briefly losing his job in 2020 put a strain on Starkey's financial situation, but the President's Scholarship from Excelsior College, where he enrolled in September 2020, helped put him back on track. Now he's on his way to earning an Associate in Science in Nursing.
Starkey had previously taken nursing courses at Florida Medical Training Institute, where he earned a degree in EMS, and had earned an associate degree at Eastern Florida State. He put earning a nursing degree on the back burner to financially provide for his family and didn't think about returning to school until co-workers at the fire department told him about Excelsior's online program. For Starkey, Excelsior is the first step toward becoming a bachelor's-prepared nurse and then pursuing a master's degree.
The scholarship came at a good time. The COVID-19 pandemic took its toll on Starkey's employment outlook. At one point he had a job as a per-diem paramedic as well as being the owner of a small business working trade shows. In 2020, he lost the paramedic job and closed the business, and after trying to start a construction job, ran into mandatory quarantines that put that business on hold. To save money and better take care of his family, he made the difficult decision to take a semester off from school. Then, in spring 2021, he received a much-welcomed email from Excelsior informing him of the scholarship.
"The scholarship has been a really great bonus…I've added four additional courses, which you know, is adding a cost to the schooling. So, it's a huge impact. I mean, any little bit helps," says Starkey, adding that he plans to use the scholarship toward course materials. He indicated that the money from the Excelsior President's Scholarship would be helpful for buying the books he needs for his upcoming fall courses.
Earning a scholarship has helped keep Starkey's spirits up, and he says it's his family that keeps him determined and headstrong about accomplishing his goals. "[My kids] are going to have the opportunities everyone else has. And so I've got to provide more, to allow them to succeed in life… That's my major driver."
The drive to help his family grow and prosper leads Starkey to think broadly about his career opportunities, including becoming a nurse anesthetist or nurse practitioner. He's also making backup plans to make sure his family is taken care of properly. He also wants to show his kids that "if you had hard work and have dedication, you can keep moving forward. So you can't dwell on your problems. You can only work on fixing them…If you've got a goal in mind, come up with a plan and have a backup. Just keep moving forward."