Looking Toward a Successful Future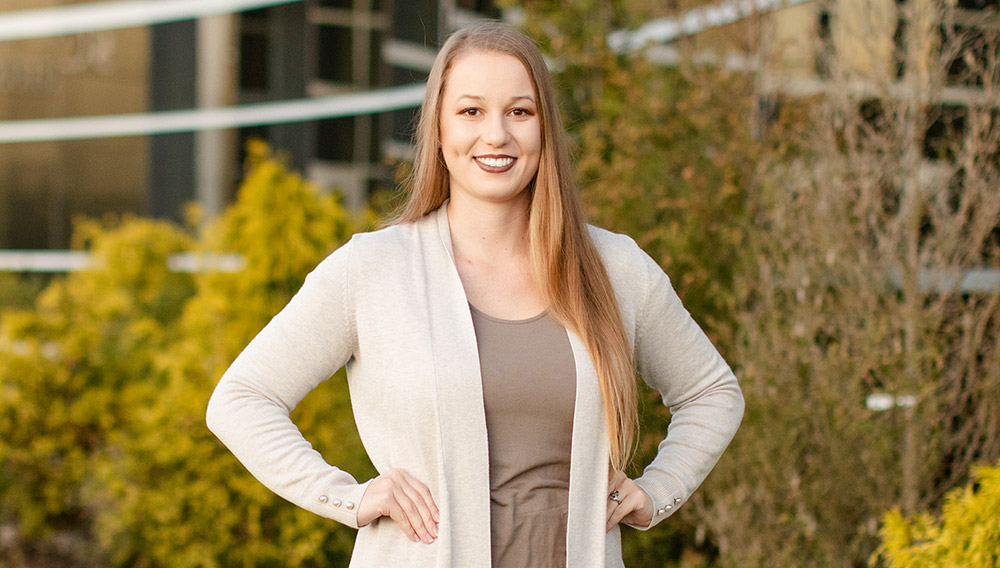 Brooklin Gilbert benefits from what Excelsior has to offer
When Brooklin Gilbert received the Entrepreneur: Business and Technology Scholarship from Excelsior College in May 2019, she was shocked. As a previous graduate of Excelsior with an associate degree, Gilbert had decided to re-enroll to pursue a bachelor's degree. However, with working full-time and money being tight, she struggled. Receiving the scholarship helped with educational finances and enabled her to continue her education. She earned a Bachelor of Professional Studies in September 2020.
The bachelor's degree sets Gilbert, of Capon Bridge, West Virginia, on a new career path. Her first dream was to be a physician's assistant, probably because as a young girl, she used to tag along with her father, an EMT, on ambulance calls. When she got older, she pursued a degree in biology and earned an Associate in Science from Excelsior in 2017. Gilbert realized the medical world was not for her, though. From her experiences as teenager working at a country store with her mother, she learned the importance of being financially stable. So, she didn't wait long before deciding to return to school to pursue a different career and secure her future. Gilbert tried majoring in accounting for a semester but quickly realized it wasn't for her. She decided to pursue general business management and professional studies. "Pursuing a business degree was important because I wanted to be very diversified in a degree field," says Gilbert, adding that with a general degree, she would have the background and be prepared to enter any career field.
The business program suits Gilbert, who has been working for a private financial institution since 2016. She helps customers to set up accounts and spends much of each day interacting with customers on the phone. Although the job can be stressful, she finds it gratifying because she enjoys helping people and making a difference in their lives. Helping them obtain the finances they need is rewarding. "I enjoy the financial world so much that I have even thought about becoming a personal finance manager to assist and help others with finance management in the future," she says.
Gilbert's options are open thanks to earning her degrees from Excelsior. A civilian Department of Defense worker recommended Excelsior College to Gilbert and she decided to take the plunge. She says at first it was hard to return to school, especially for her bachelor's, but luckily her father and friend were there to continuously support and encourage her. "Sometimes we don't really know our own potential until someone gives us a nudge in the right direction," she says, referring to her father's words of encouragement. She says she is happy she listened to her father and now feels better about herself and her future than ever before.
While doing her studies, Gilbert put a lot on the backburner. She prioritized school over her personal life and hanging out with friends, for instance. She knew she had to push through and that her hard work would pay off. This mentality was difficult to maintain, however. "A lot of times I always felt I had to choose between something I wanted versus something I was forcing myself to do." Earning the Entrepreneur: Business and Technology Scholarship reinforced Gilbert's belief that she was working hard for a reason: to better herself and her future.
Gilbert has worked hard to get where she is today. She says she thinks her degrees will help her obtain other employment and even open her own business. "I believe that my degrees from Excelsior will help me stand out against my competitors and make me the better candidate," she says. Explore all of our Bachelor's Degrees in Business.