Excelsior Students Place Third in IACBE Case Competition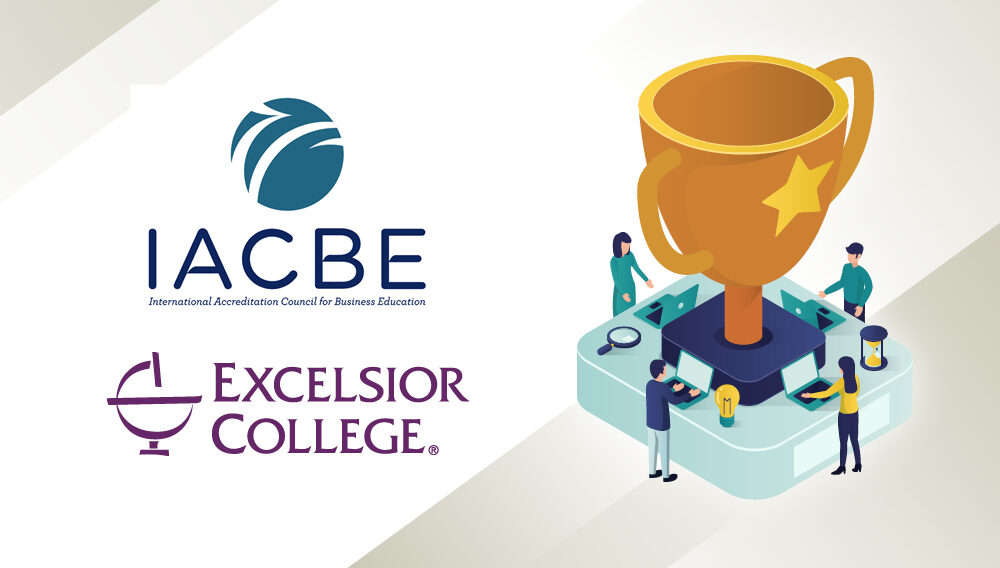 In fall 2021, four Excelsior College students participated in the 2021 IACBE Live Business Case Competition and placed 3rd out of 24 teams. "Working with peers and leaders to accomplish a goal was rewarding," said Skyler Sharp, a Master of Science in Management student and one of the team members.
The team was mentored by faculty member Janice Tucker, with support from faculty program directors Michele Paludi and Leah Sciabarrasi. "This was a wonderful experience to work with students on a real problem for a real company," said Tucker in appreciation of coaching the student team.
The case competition was a unique opportunity to get students in front of real-world executives as they competed to come up with the best insights based on real company challenges. The competition was fully remote. Each competing team was tasked with developing a USA Go-to-Market Strategy for GENUINO, an Italian start-up that connects NFTs (non-fungible tokens that allow holders of art and collectibles to track ownership) to real-world objects. The specific focus for this project was how GENUINO could leverage its blockchain certification technology and community engagement platform across multiple sectors, including sports, music, art, and fashion, to build and grow revenue streams for all points of engagement in the life of the collectible (NFT + Physical).
Teams looked at how all points of contact (athletes, teams, artists, musicians, fashion designers, collectors, and fans) can monetize opportunities within the U.S. as they look to gain value and enrich their experience with athletes and teams through the use of NFTs proprietary to the GENUINO marketplace, which uniquely incorporates physical asset blockchain certification protocol. Team member and Master of Science in Management student LeRoy Greene II said that it was a "very unique project that had involvement with Excelsior centered around new and innovative technology platforms. It's how educational experience should happen!"
A total of 126 students from around the world competed in the fall 2021 competition and 24 final deliverables were submitted. Teams had two weeks to research the case and submit a final deliverable that included a "go-to-market" proposal and a video presentation. "This competition epitomized what teamwork truly means," said Mario Ramdial, another team member and Master of Business Administration student.
Competing as Team Ever Upward, the students' proposal fully explored and addressed adoption across three target consumer audiences: the web-savvy, veteran crypto user who understands the NFT concept; the sports fan with no prior experience or understanding of NFTs; and the collector who may or may not understand the NFT concept. "Our challenge was to truly create a way to harness the wild west of crypto-trading" said team member Keila Peters, a Master of Science in Management student.
The competition was sponsored by IACBE, an outcomes-based professional accreditation agency for business and management degree programs, and Capsource.
Congratulations, Team Ever Upward!
Leah Sciabarrasi