Excelsior University recognized as one of Forbes Advisor's Top Online Health Science Degree Programs of 2023
Excelsior is among seven educational institutions included in the rankings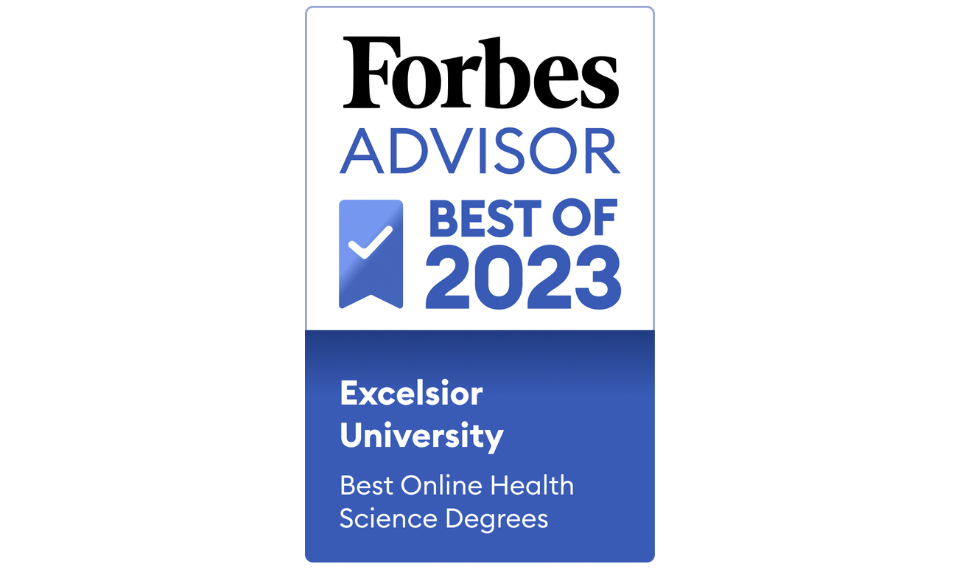 ALBANY, N.Y.— Excelsior University announced today that it has received Forbes Advisor's designation as one of the Top Online Health Science Degree Programs of 2023.  
Forbes Advisor highlighted Excelsior's online Bachelor of Science in health sciences. The program affords students the opportunity to earn academic credit through eligible healthcare certifications and licenses, and includes three available areas of emphasis in management, health and wellness, and public health. Forbes Advisor cited the flexibility of these concentrations in its assessment, with notable courses in communication for health science professions and introduction to informatics also contributing to the ranking.  
"We are thrilled to be named one of Forbes Advisor's Top Online Health Science Degree Programs. Excelsior is committed to providing the next generation of health care professionals with the education and experience they need to serve patients and community issues," said Christopher Cassirer, Sc.D., M.P.H., provost and chief academic officer of Excelsior University. "As we continue to innovate alongside the evolving health care industry, this designation is a well-deserved honor for our outstanding faculty and students." 
Excelsior University was among seven institutions nationwide to meet the criteria established by Forbes Advisor to recognize the strongest online bachelor's degree programs in the health sciences field. The rankings were determined by a methodology utilizing 16 data points in the categories of credibility, affordability, student outcomes, student experience and application process. Data was collected through the National Center for Education Statistics' Integrated Postsecondary Education Data System and private, third-party sources.  
The Forbes Advisor Education team strives to bring readers unbiased rankings and trustworthy, informative articles covering higher learning institutions, individual degree programs, bootcamps, professional credentials and various career paths. 
Find more information about Excelsior University's health sciences degree, visit the program page at the Excelsior website here. 
# # # 
Media Contact Excelsior University:
Jason Bonafide, jbonafide@excelsior.edu, 518-608-8446
 
ABOUT EXCELSIOR UNIVERSITY
Excelsior University is an accredited, not-for-profit online institution focused on helping adults complete their degrees and advance their careers. Excelsior contributes to the development of a diverse, educated, and career-ready society by valuing lifelong learning with an emphasis on serving individuals historically underrepresented in higher education. Founded in 1971, Excelsior meets students where they are — academically and geographically — removing obstacles to the educational goals of adults pursuing continuing education and degree completion. Our pillars include innovation, flexibility, academic excellence, and integrity.